Rome Milan's Traveling Exhibit
Rome Milan's Traveling Exhibit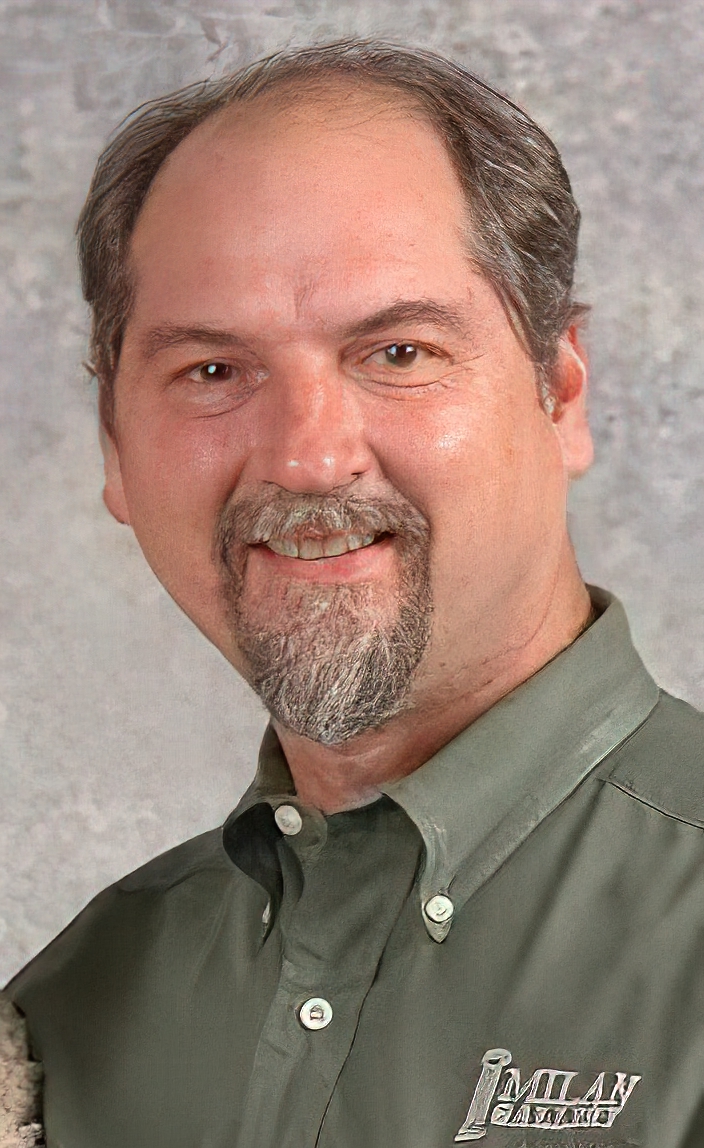 • Rome was known for his contributions to many areas of gymnastics. He competed, coached and judged gymnastics, and was an artist.
His parents Jerry and Henrietta were active in gymnastics at Sokol Fort Worth and they and Rome attended all Olympic Games during his lifetime. Rome served as a spectator, volunteer, or employee at the Olympics. He married Pauline Gardner, an Olympic gymnast from New Zealand.
• An avid collector of Olympic pins, torches and antique gymnastics memorabilia and equipment, he also collected a variety of Sokol items. His interest in Sokol history and contributions to culture underscored his overwhelming enthusiasm for the organization.
• Having been diagnosed with ALS, Rome set out to visit every Sokol club in the Czech Republic, but the pandemic and his failing health left him short of his goal. However, he did visit over 400 clubs.
• He brought his traveling exhibit to numerous gymnastic competitions.
Rome's legacy includes his intense interest in both Sokol and Gymnastic histories. In 2022, a year after his death, he was honored by a Special Recognition Award from the International Gymnastics Hall of Fame.

Another legacy: Handstands in Many Lands (right photo).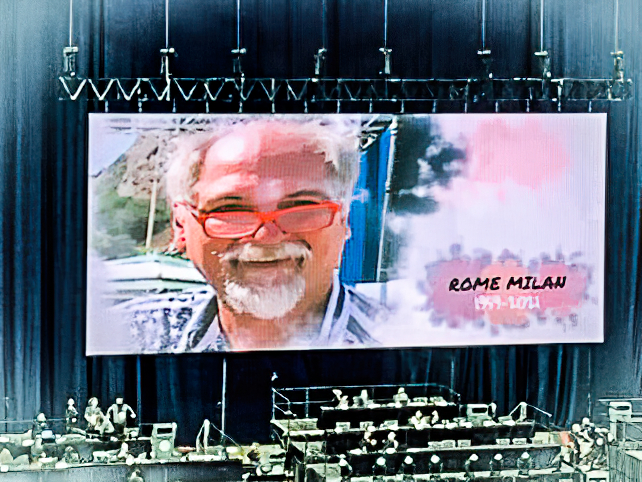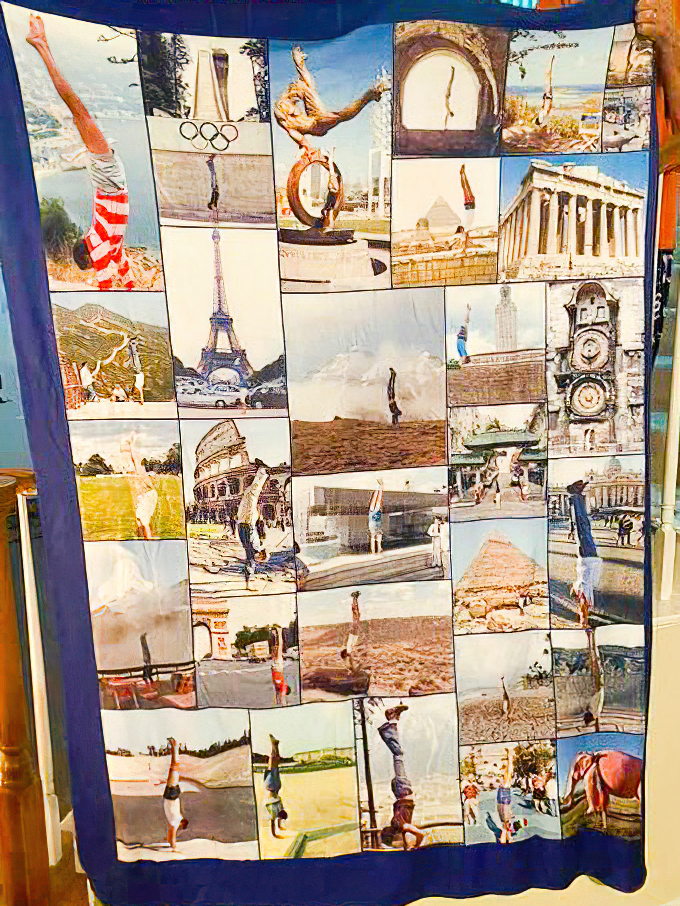 Rome Milan Exhibit featuring Sokol Slets, medals and souvenirs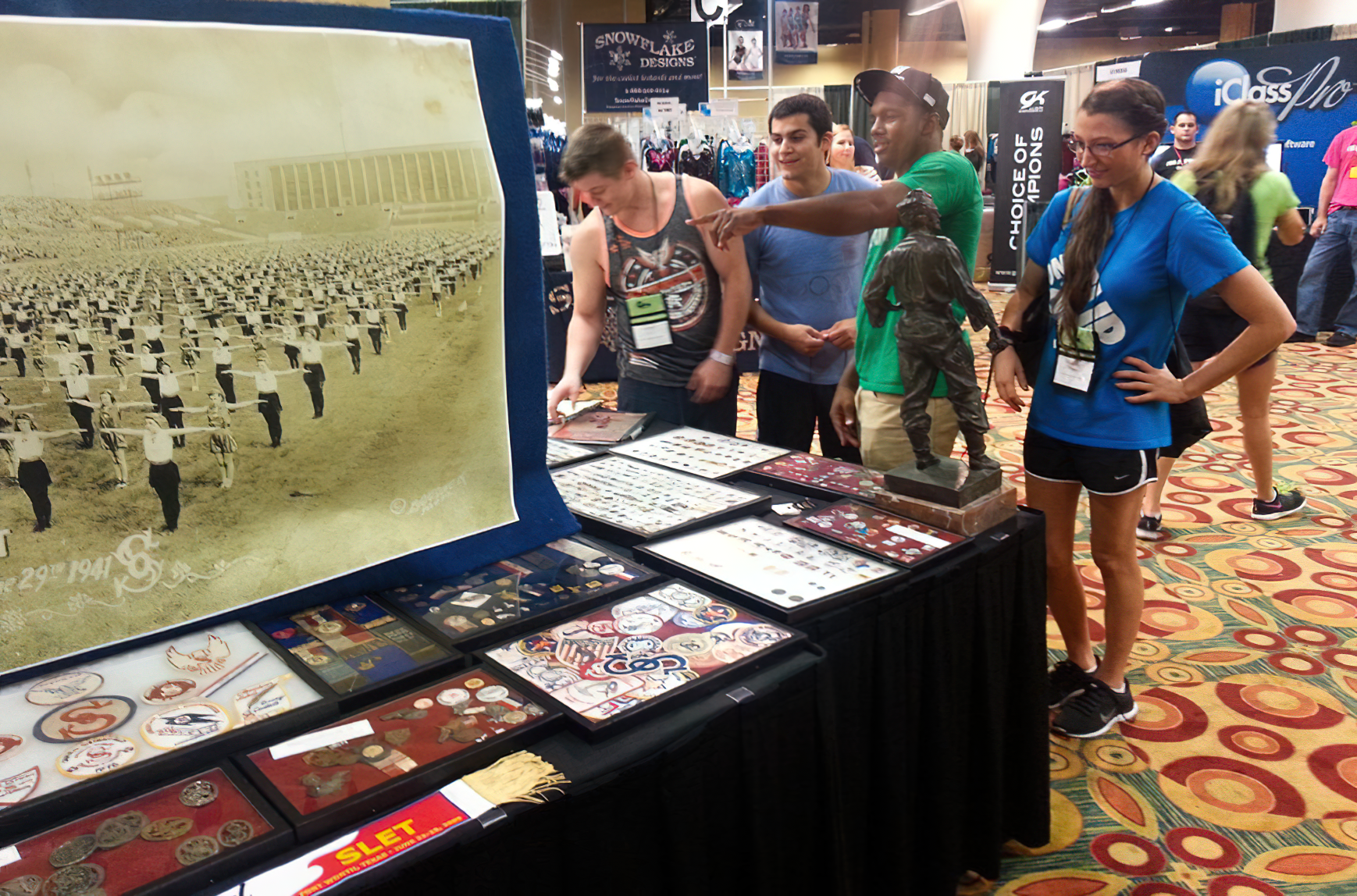 Rome (white shirt) explaining an exhibit to visitors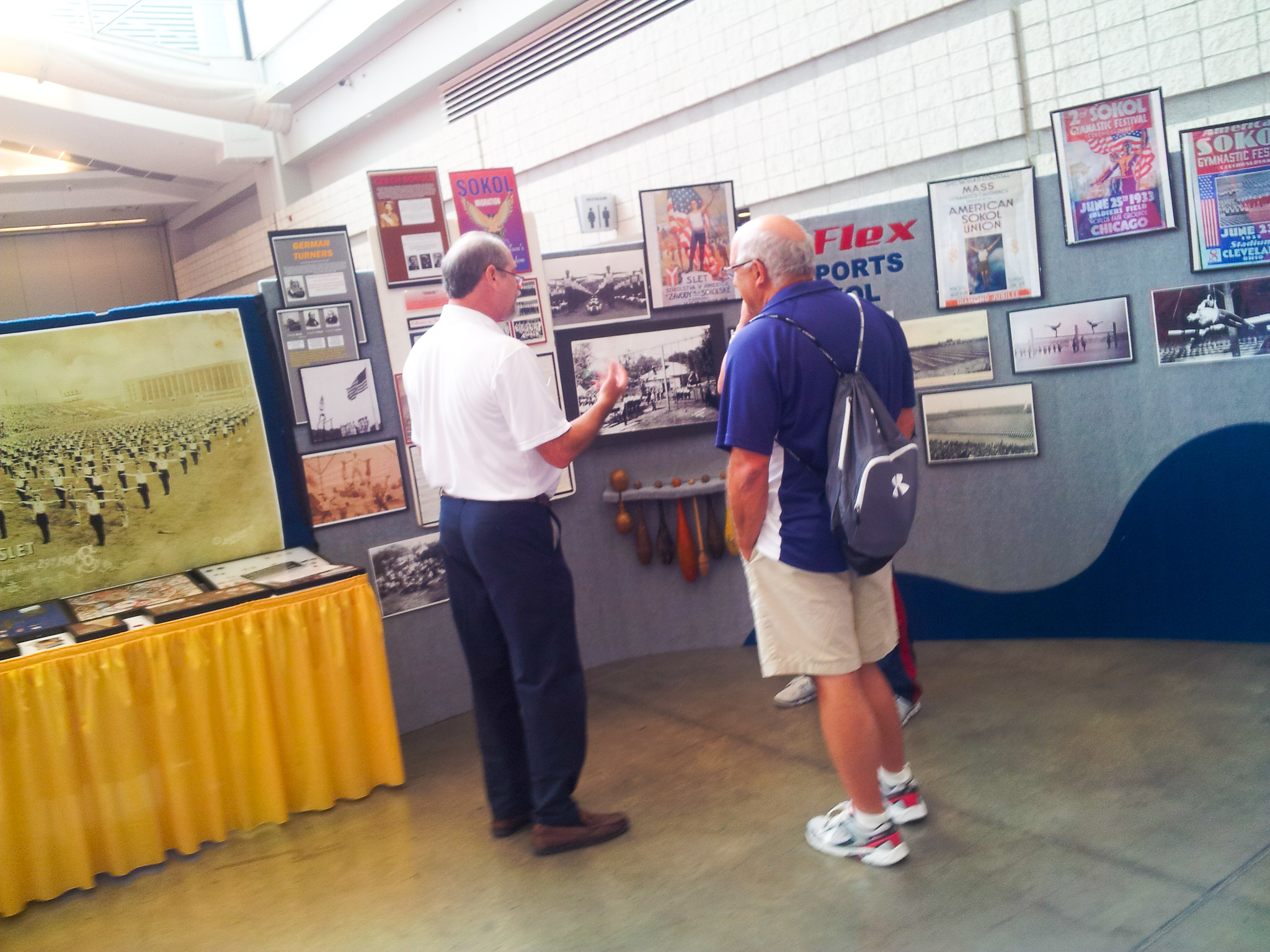 Jerry and Henrietta Milan, Rome's parents, are seen in a photo with Lisa Cawthron, a 1977 US National Vault champion, at one of their son's exhibits (left). In the post card (right), Rome is posing in front of a poster of a sculpture of a gymnast performing on the pommel horse.
Both of Rome's parents were active in Sokol and gymnastics. Henrietta as a champion gymnast and Jerry as a coach, judge and organizer of competitions.
Henrietta is an accomplished artist and she and her husband own the Milan Gallery in Ft. Worth.
Rome was also an artist and active in the Gallery.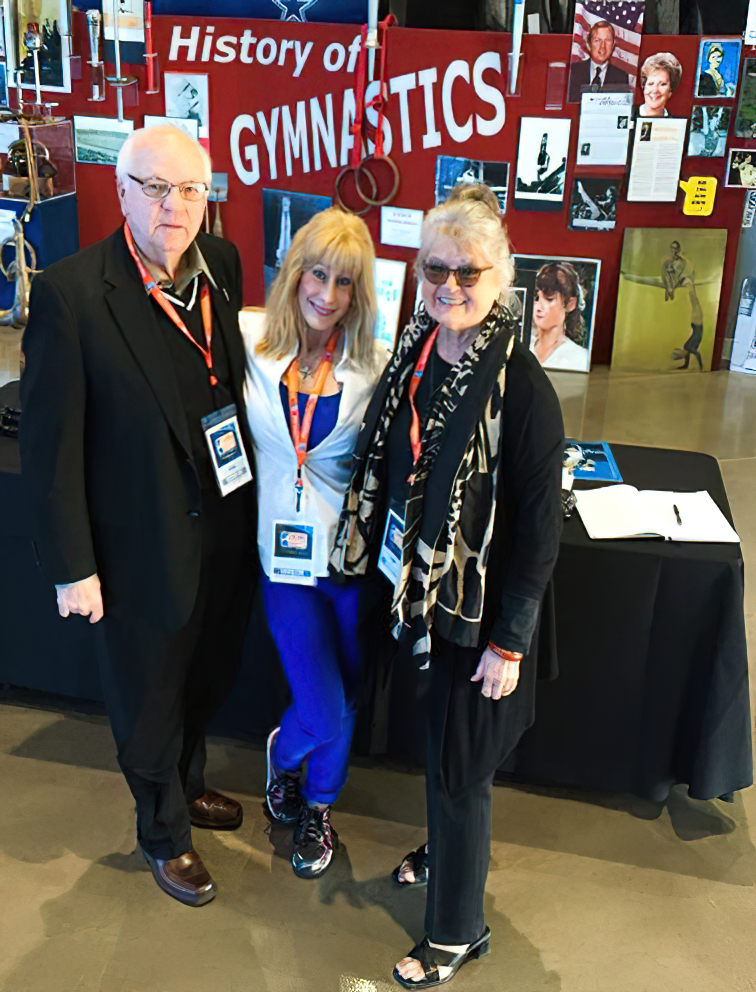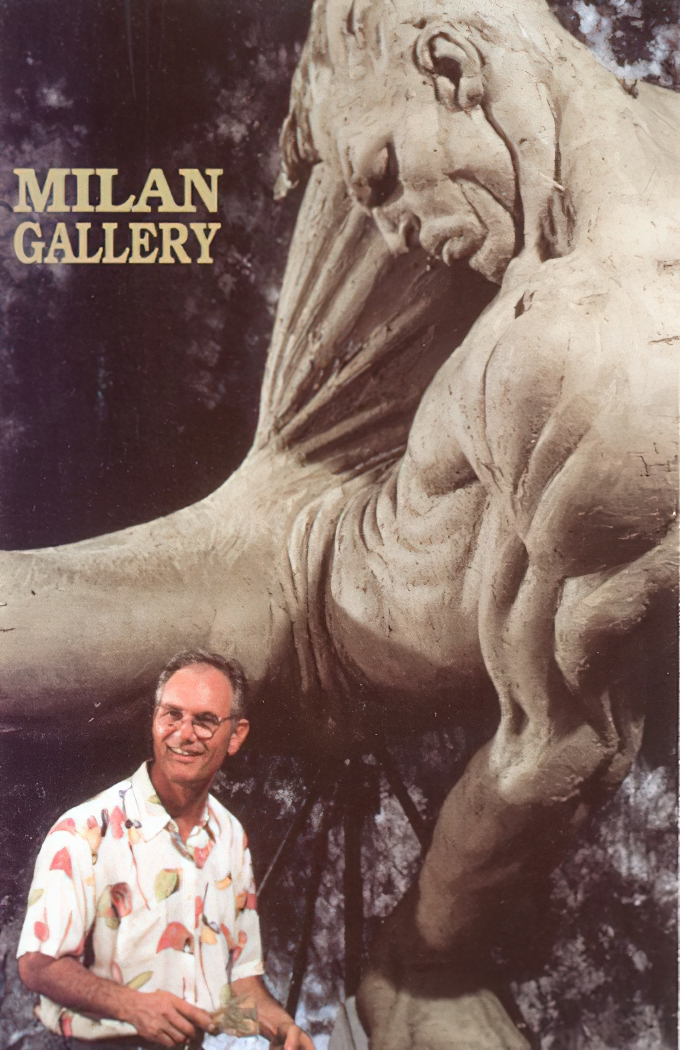 These types of exhibits are a valuable teaching tool. Sokol's story is told by illustrations and words. Seen here are various dumbbells and Indian clubs, photos and medals.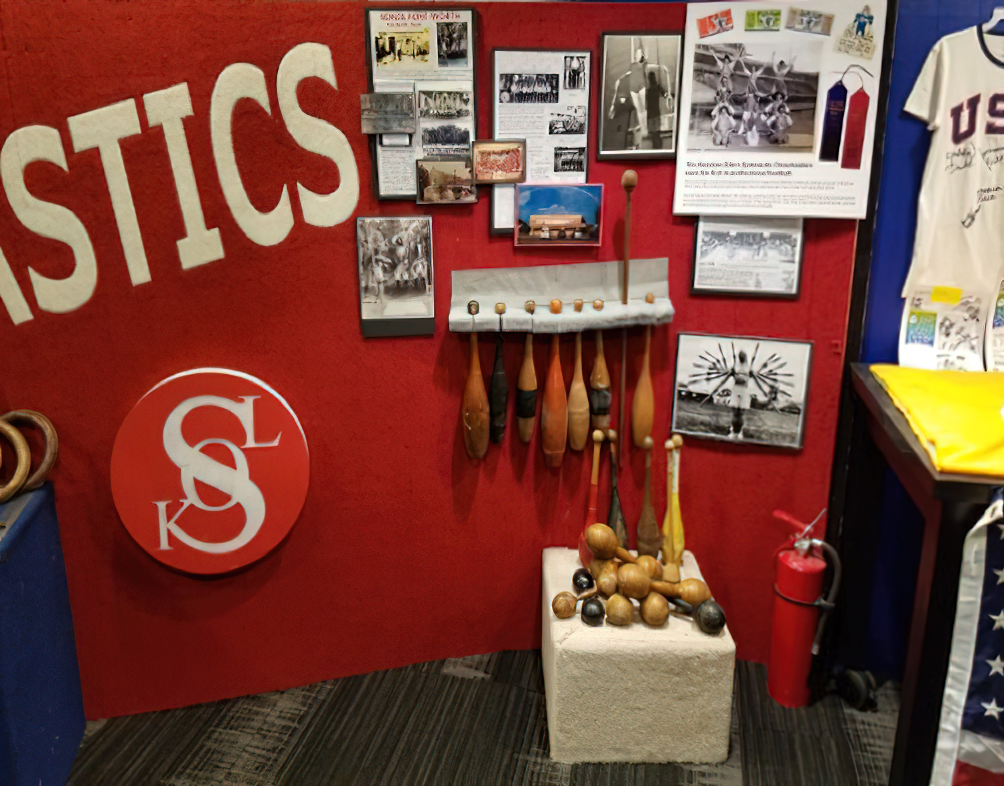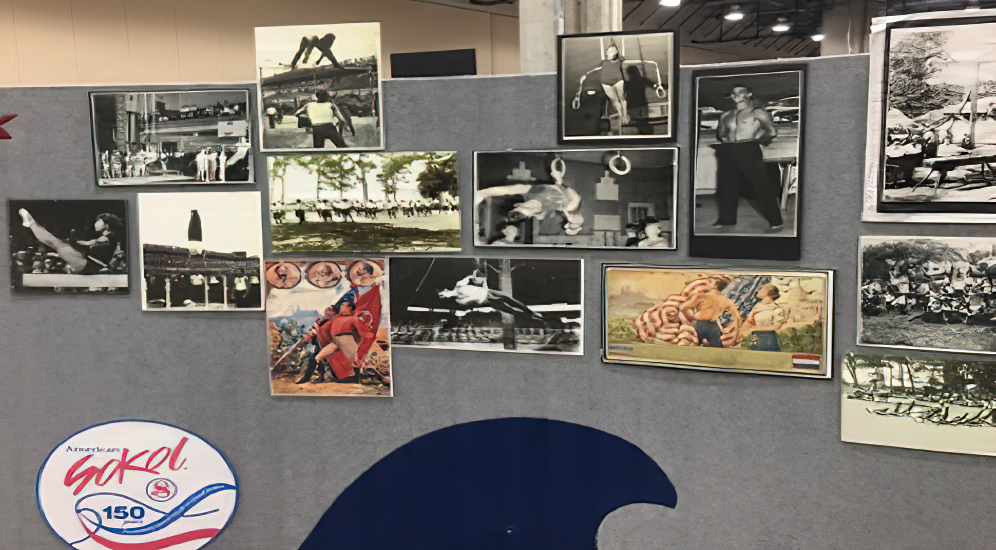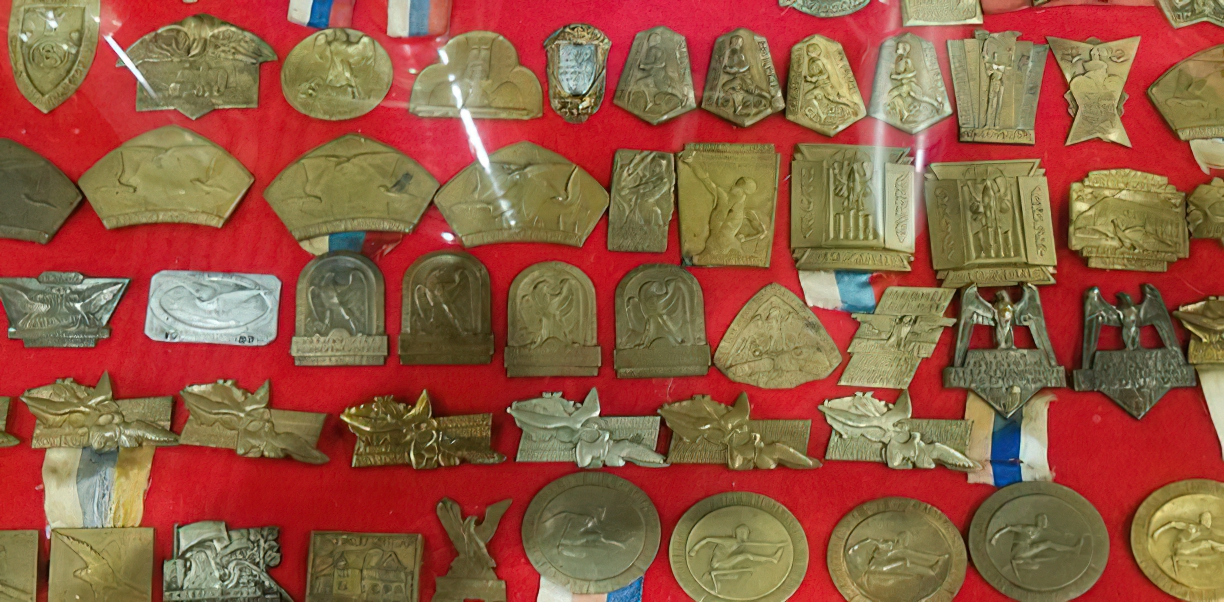 Display honoring American Sokol's 150th year Anniversary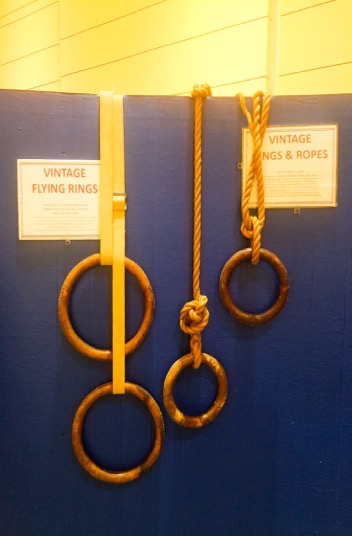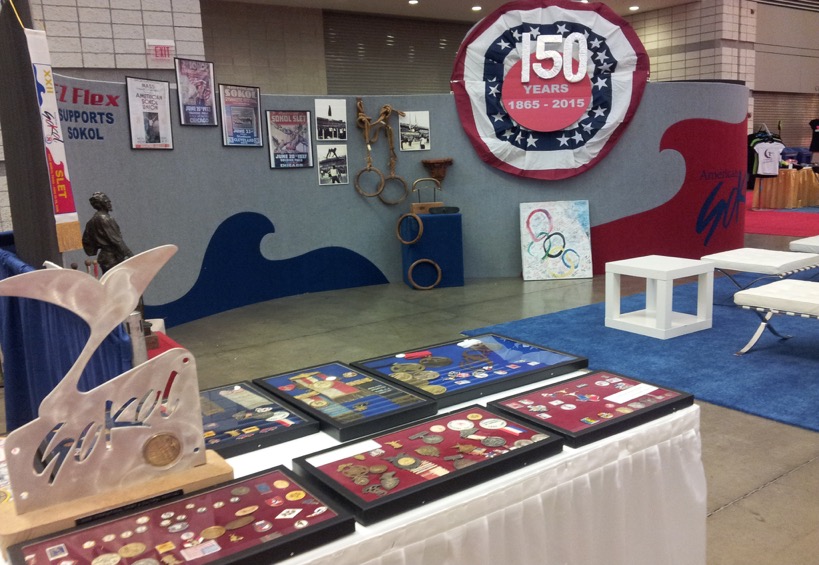 Sokol Slets (Gatherings or Festivals) Exhibit
The statue in the right photo is of Miroslav Tyrš, founder of the Sokol movement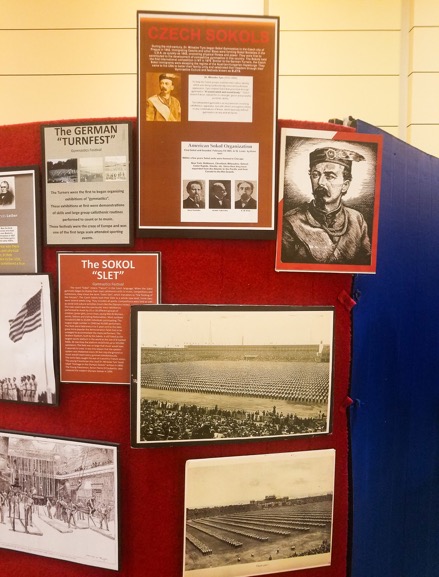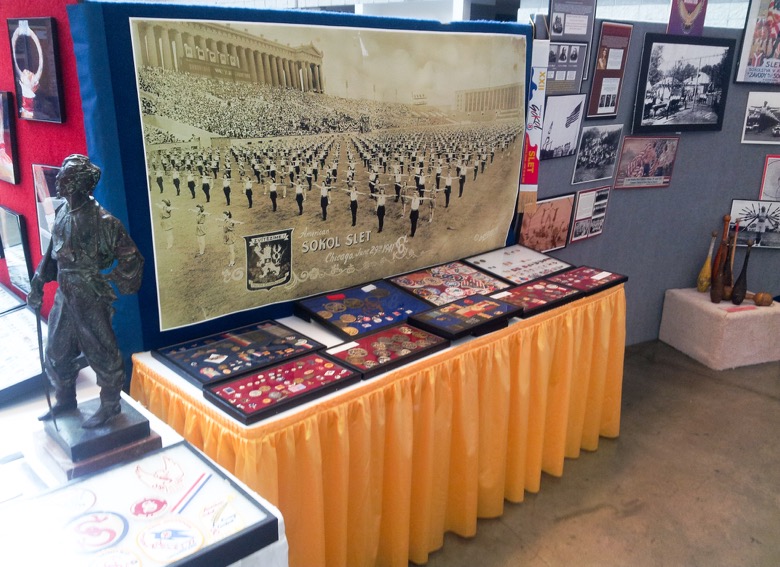 Sokol Slets in Prague and in the US have traditionally been featured by colorful posters.
Seen here are those from American Slets dating back to the early 20th century. The photo on the left includes a Sokol moto: "Move forward yet remember the past," and features older versions of gymnastic shoes and safety belts used in training.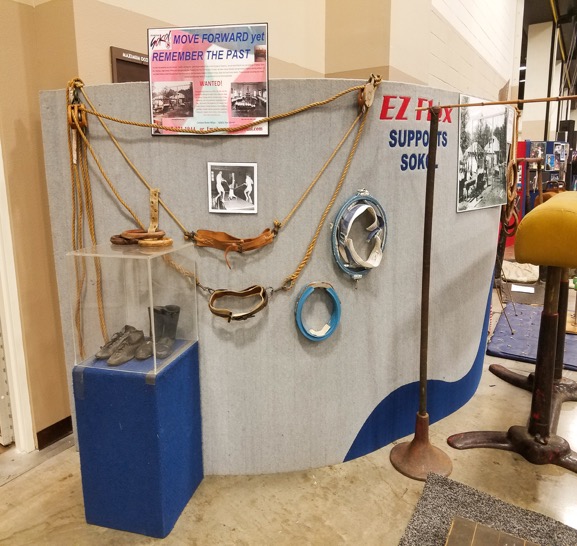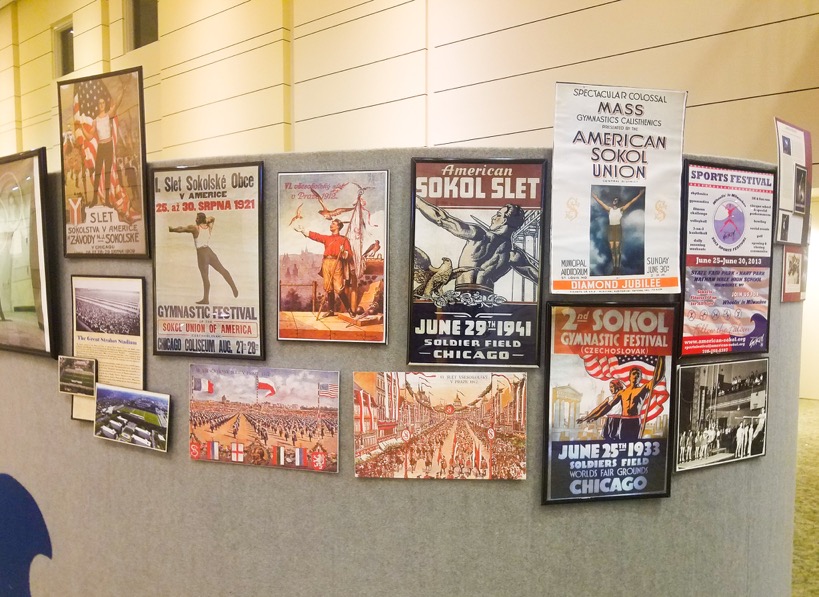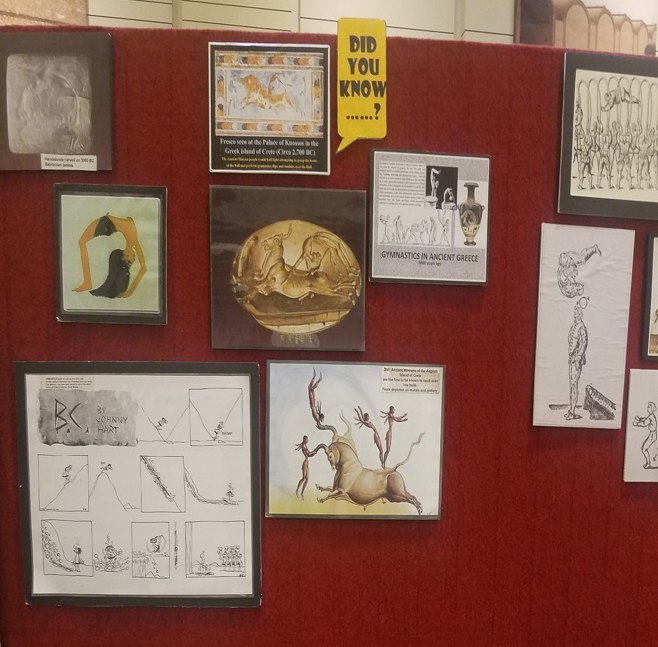 The photo on the left contains illustrations dating back to early Greece.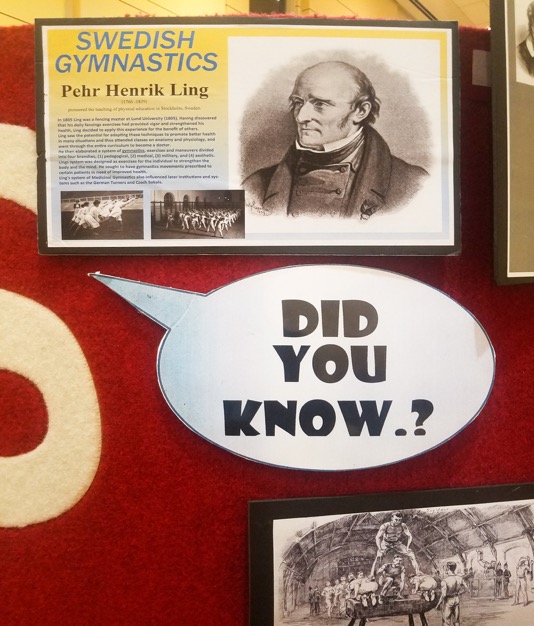 History of gymnastics display includes contributions of Sokol, German Turnverein and college programs. Seen here are Olympic torches and other items from Rome Milan's collection.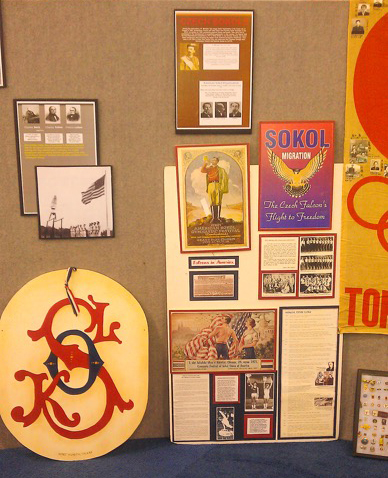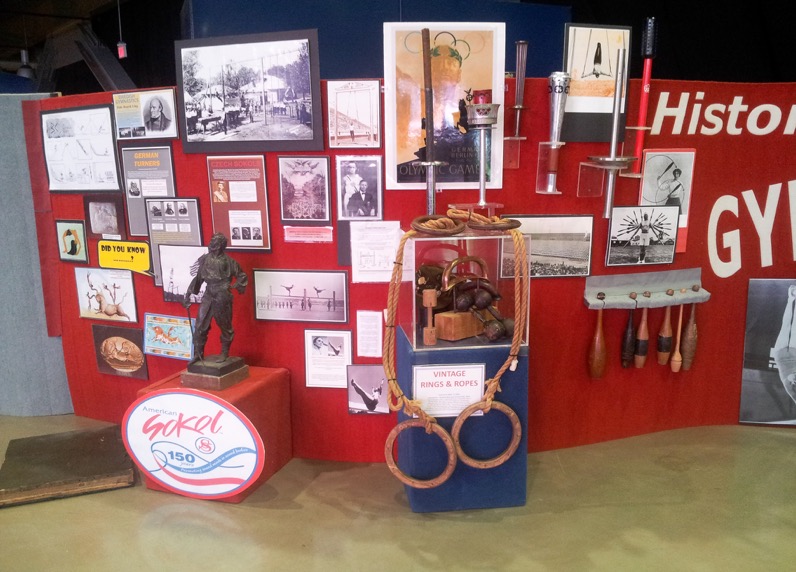 Older Gymnastic Equipment ( note: the takeoff board is not a springboard)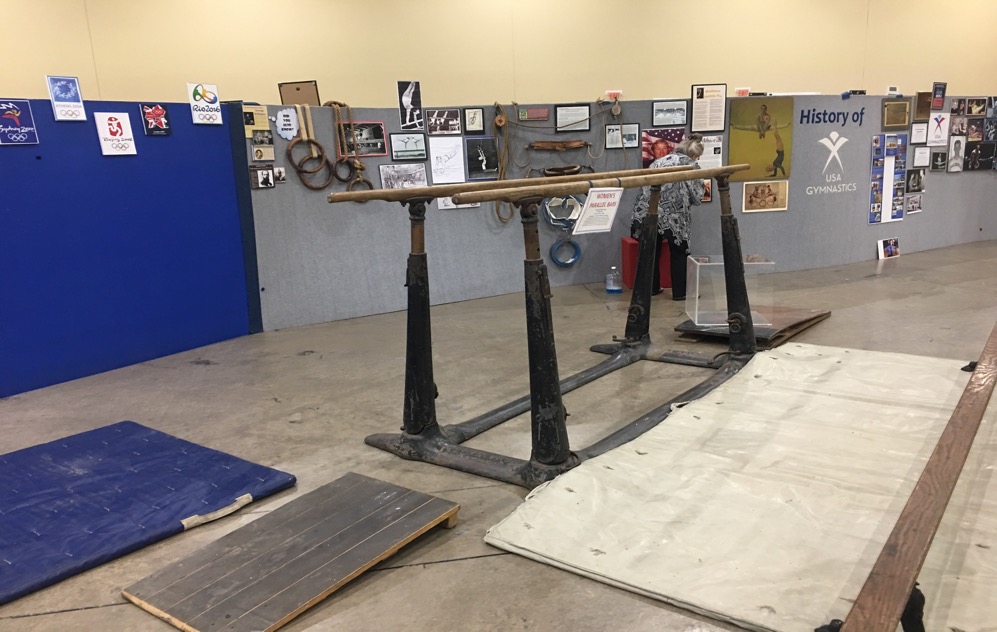 Sokol exhibit with equipment used during the early 20th century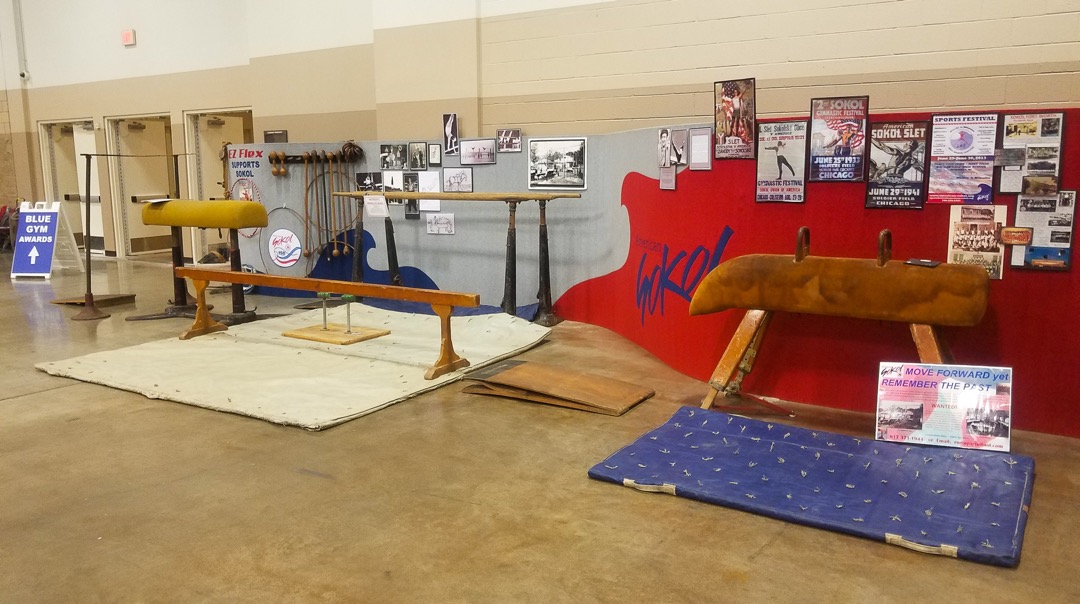 Gymnastic equipment used in training and exhibitions (early 20th century)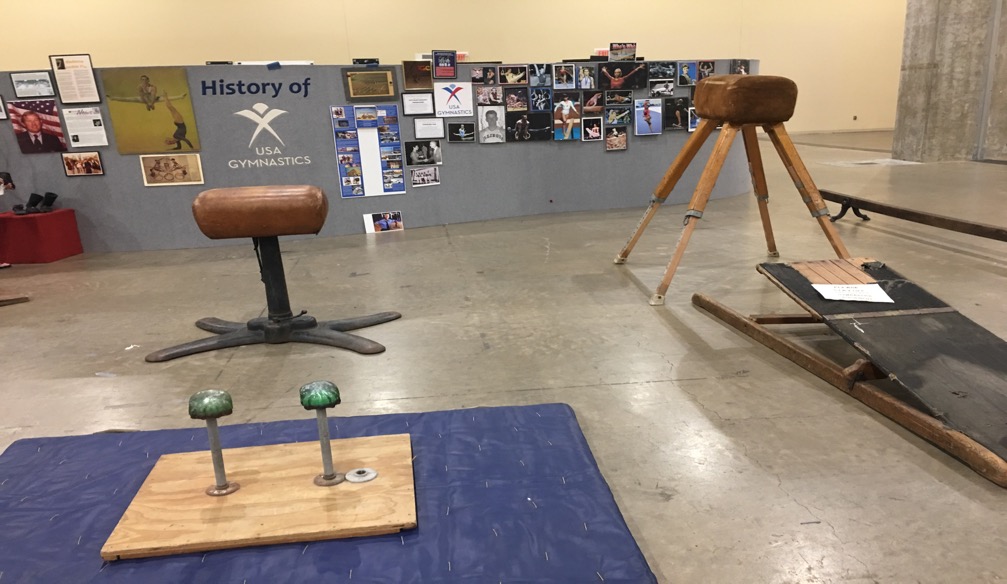 Display featuring various types of Indian clubs, dumbbells, hoops, and a modern springboard used in vaulting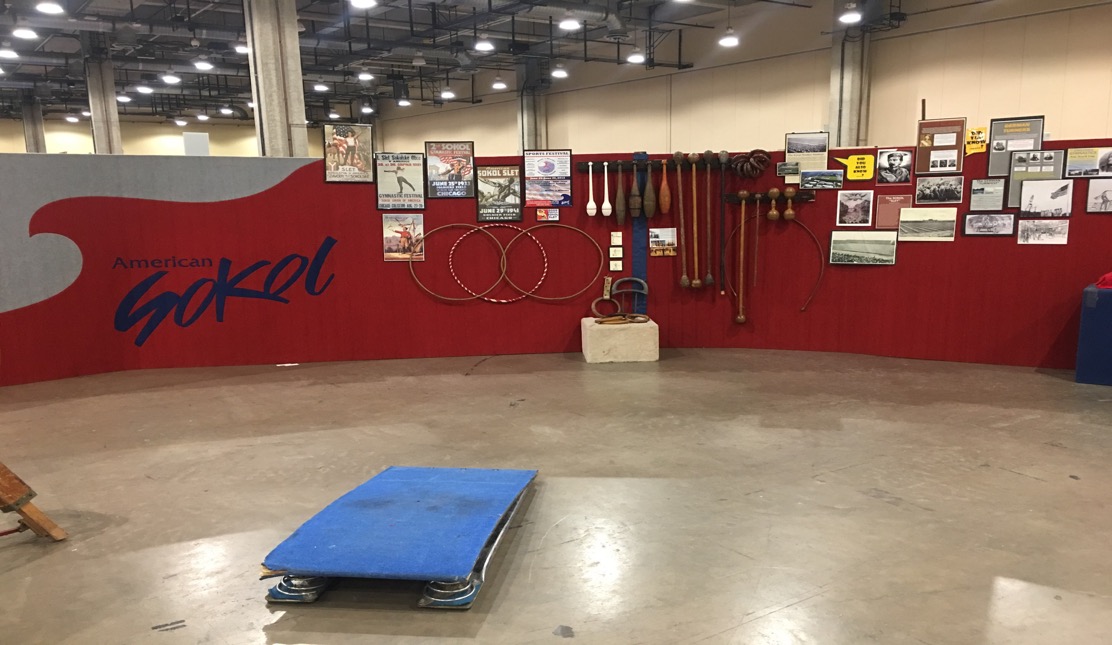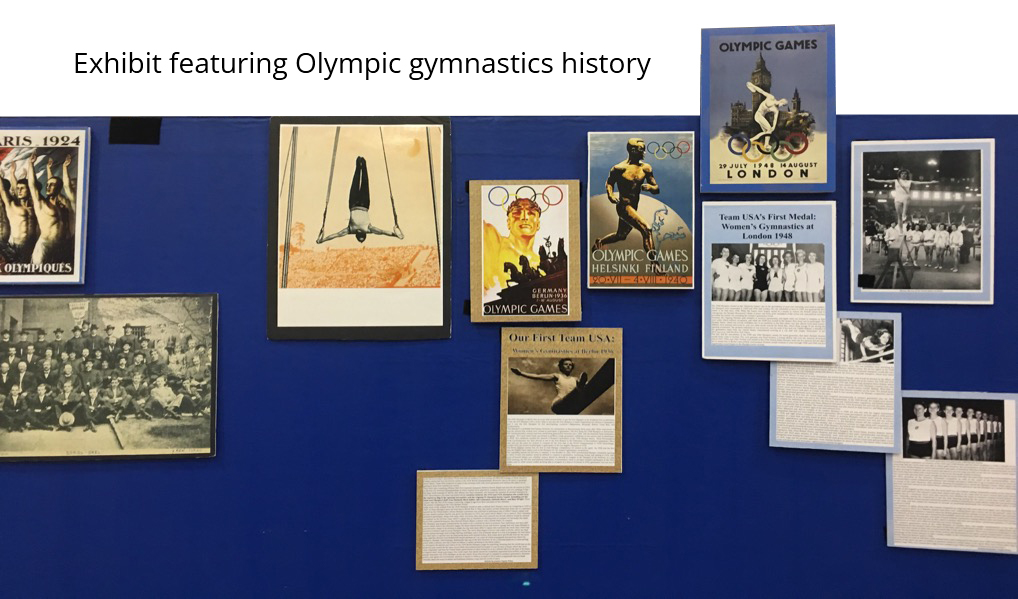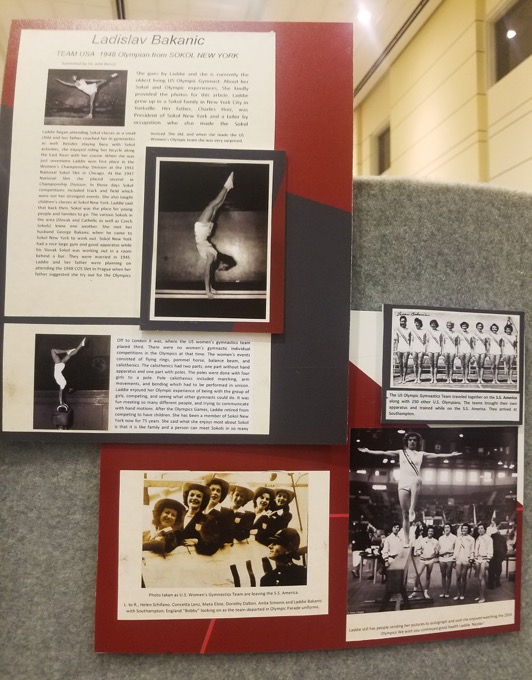 Olympic Gymnastics Exhibit
Left photo features Ladislav (Ladie) Bakanic, a Sokol New York gymnast who was a member of the US women's team that won the bronze medal in the 1948 Olympics in London.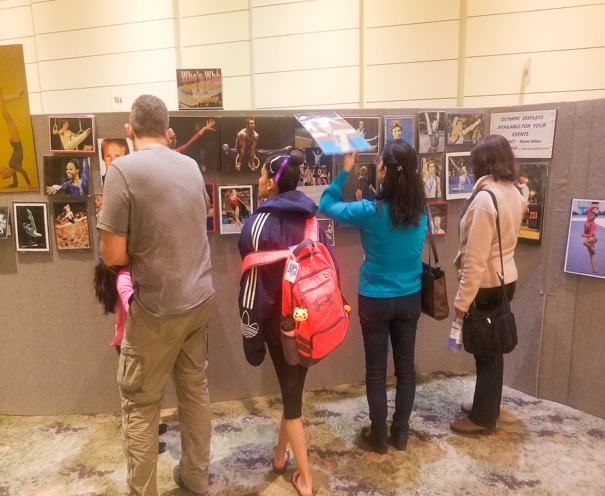 Gymnastics in the Olympics: medals, badges, pins and torches (left) & first US men's team Olympic gold medal team (right) won in 1984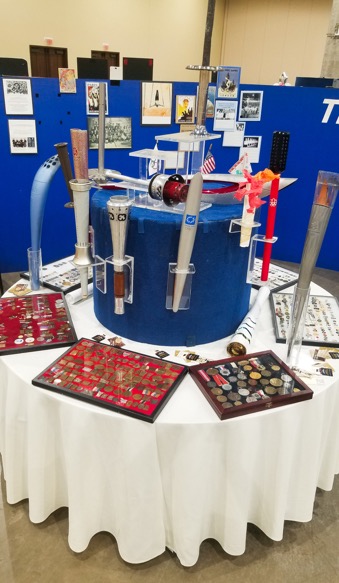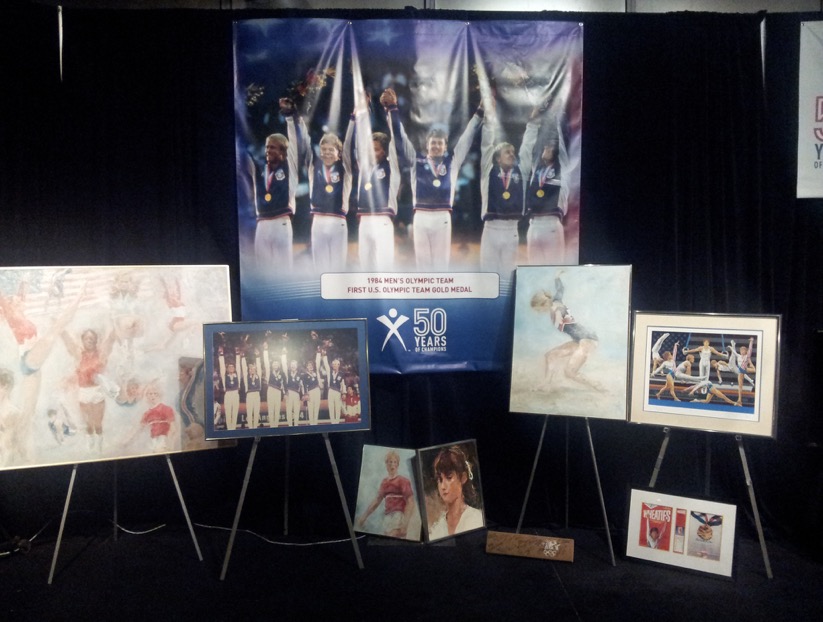 Collection of Olympic torches (left) and a tribute to Frank Bare (right), member of the International Hall of Fame, recognized as a competitor, coach, judge and administrator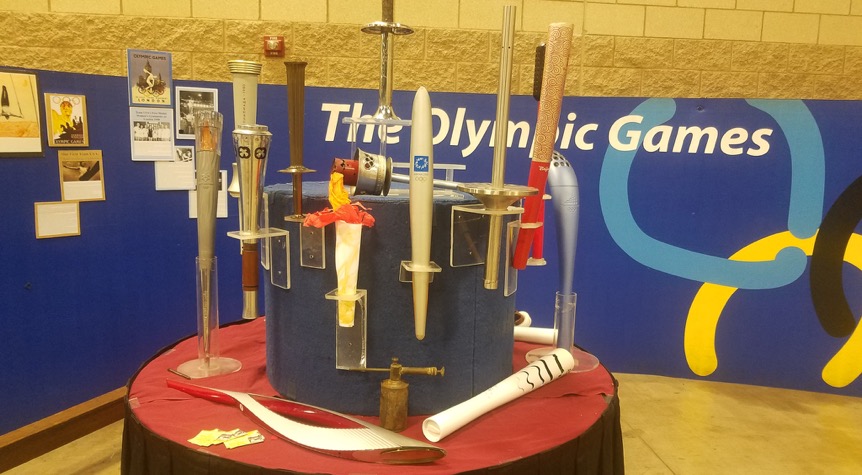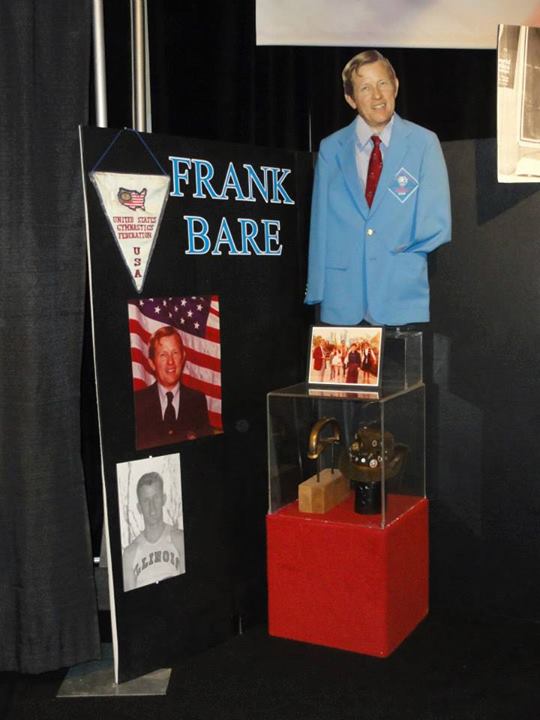 George Nissen (1914-2010) and the trampoline
• Nissen, a gymnast and diver at the University of Iowa, invented the modern trampoline in 1935 and formed the Nissen Corporation in 1939 in Cedar Rapids, IA.
• In 1945 he received a patten for "trampoline" and later 40 more pattens.
• His corporation was the largest manufacturer of trampolines and other gymnastics equipment in the US.
• Nissen was passionate about gymnastics as a fitness sport and helped Trampoline become an Olympic sport in 2000.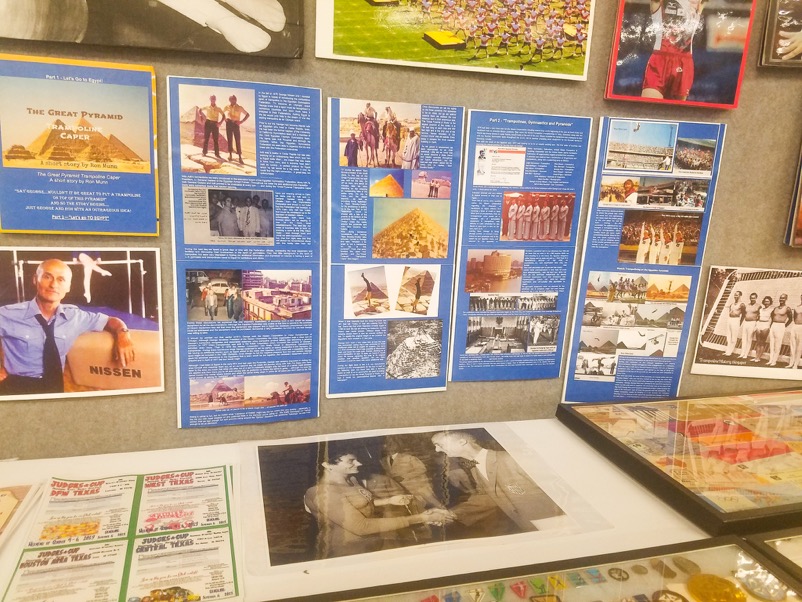 Gymnastic Meet: common venue for a Milan's exhibit