Sokol and Competitive Gymnastics
Competitive Sokol Gymnasts
Although Sokol training is geared for the masses and features a variety of fitness activities, the organization has produced national and international competitors and champions in the sport of gymnastics.
The painting by Stephen Bar, a gift to Jerry Milan, depicts Sokol gymnasts soaring along with the falcon, Sokol's symbol.
• Training for national and international gymnastics competition was integral to the Czech Union Sokol, as the organization was the national organization for gymnastics.
• Tyrš' philosophy was that Sokol brothers should help each other advance their skill levels in a friendly competitive atmosphere. The resistance to his philosophy came from some Sokols who viewed the organization as one of only physical education and culture.
• The value of the Olympic games and participation by the Czechs was stressed by Dr. Jiří Guth, a Sokol, who was the Czech representative to the International Olympic Committee. As documented in this section, Czech Sokol Gymnasts won many World and Olympic medals and many Czech and American Sokols served on Olympic and International Gymnastics Boards.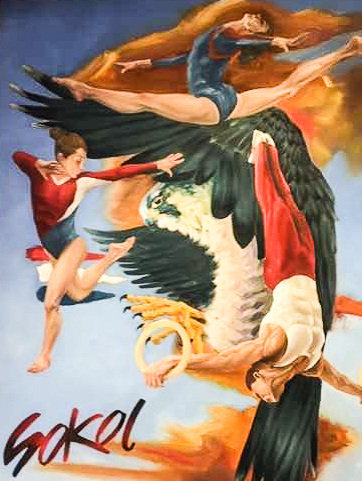 Sokol and Competitive Gymnastics
Artistic gymnastics. International artistic gymnastics for men includes six events: horizontal bar, parallel bars, pommel horse, vault, rings, floor (free) exercise; for women there are four events: balance beam, uneven bars, floor (free) exercise, and vault.
Rhythmic gymnastics. The sport consists of a dance routine with acrobatic movements performed using a hand apparatus (ball, clubs, ribbon, rope or hoop). Initially, group rhythmic gymnastics was a component of women's artistic gymnastics, but in 1962 it was recognized as an independent sport. Like the influence of Sokols on artistic gymnastics, many pioneers of rhythmic gymnastics were Sokols.
Evolution of artistic gymnastics. In ancient Greece, as early as 500 years B.C., tournaments were held that consisted of gymnastic activities (e.g., tumbling and rope climbing). However, artistic gymnastics was most notably due to the work of Fredrich Ludwig Jahn, who founded the German Turnverein in 1811, and Sokol's Dr. Miroslav Tyrš, who established the Sokol movement 51 years later. The sport of gymnastics evolved primarily through the influence of these two gymnastic societies throughout Europe and in the United States.
Sokol's philosophy includes both gymnastics as an avenue to fitness for the masses, as well as the development of competitors for the sport of gymnastics.
Competitive Artistic Gymnastics and Sokol: a Long Tradition
Tyrš' fundamental idea of the Sokol movement was "fitness for a democratic Czech nation." Physical fitness for all was a cornerstone of the philosophy. Each participant was encouraged to develop skills and reach fitness levels according to one's ability and aspirations. This ideology included competition in the sport of gymnastics, at all levels, as seen in every Slet, and extended to non-Sokol and international competitions. Photo: Czech National Museum Archives.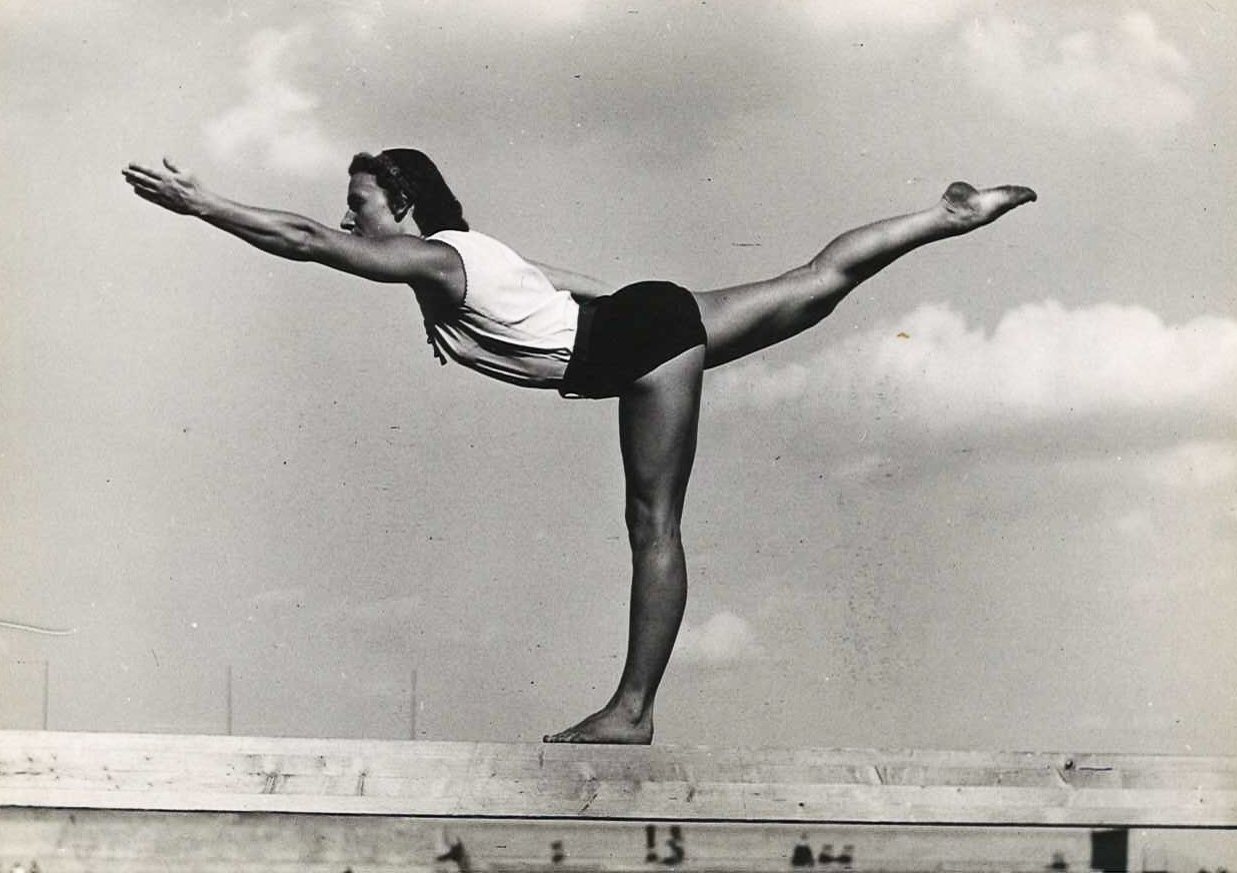 Some Sokol Contributions to Competitive Gymnastics
• Sokol member on the first Modern Olympics Committee (1896).
• Czech Sokol international teams competed in Olympics and World Championships.
• Sokol training produced gymnastic coaches in schools who, in some cases, founded the sport in US states, e.g., Texas, Illinois.
• Sokol members served in leadership roles in national and international gymnastic governing bodies.
• Sokol, Turnverein and YMCA organizations in US played a major role in establishing governing gymnastic bodies and competitions.
Sokol and the sport of Rhythmic Gymnastics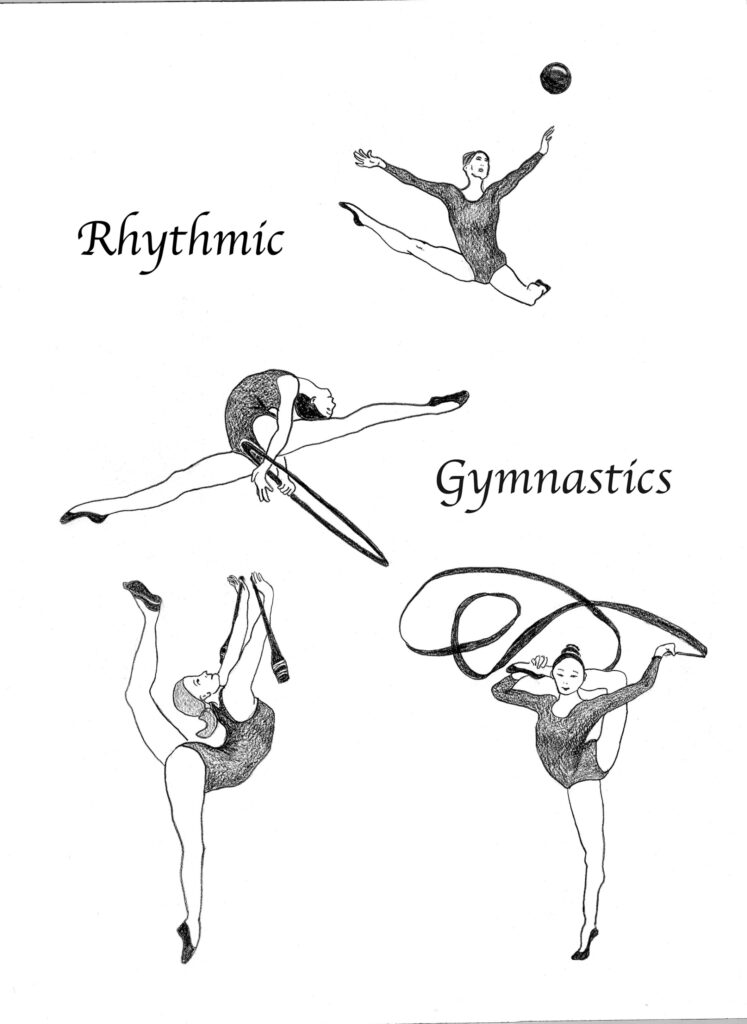 • Gymnastic routines performed with a hand apparatus (balls, hoop, ribbon, clubs, or rope) became popular in the 1950s, & initially were called "Modern Gymnastics".
•1963: Modern gymnastics became a sport called Rhythmic Gymnastics in Europe.
• Mildred Prchal (Sokol Tabor) was charged with developing the new sport in the U.S. She was joined by Norma Zabka (Sokol New York) in organizing clinics.
• 1984: Rhythmic Gymnastics became an Olympic sport that features dance-like routines with leaps, contortions and flexibility while utilizing a hand apparatus (examples shown in the figure by Rita Tomanek).
• Ellen Nyesmscik, another Sokol (Little Ferry, NJ), became a pioneer in the new sport.
Gymnastics competition: an integral part of Sokol Slets
• Slets (Festivals, Gatherings) at the international, national and district levels included gymnastic competitions at several skill levels (divisions): low, intermediate, high and championship. These progressive levels provided an individual the opportunity to advance and attain a skill level consistent with his/her ability and interest. Each level required compulsory skills; the championship level also included optional routines.
• These competitions were part of the Sokol movement even before Slets (that included mass calisthenics) were organized.
• Before the early 1950s a few track and field events were components of the gymnastic competitions (e.g., sprint, high jump).
• Czech Sokols currently are a governing body for a variety of sports. However, some Czech Sokols continue to produce international gymnasts, e.g., Sokol Brno (color photo from their website).
• Artistic gymnastic competition in the 1926 Slet in Prague is illustrated in the photo on the right (from Czech Union Sokol).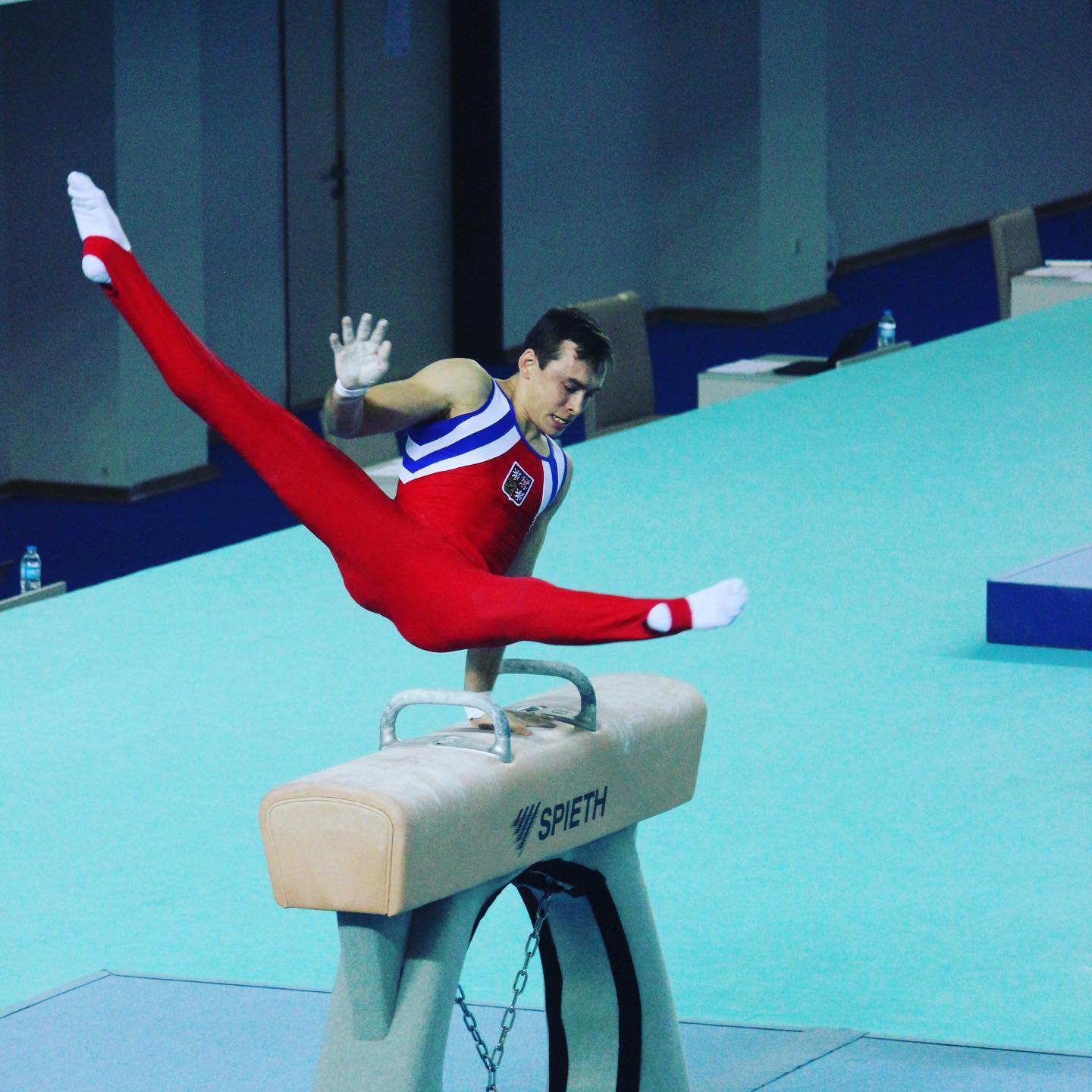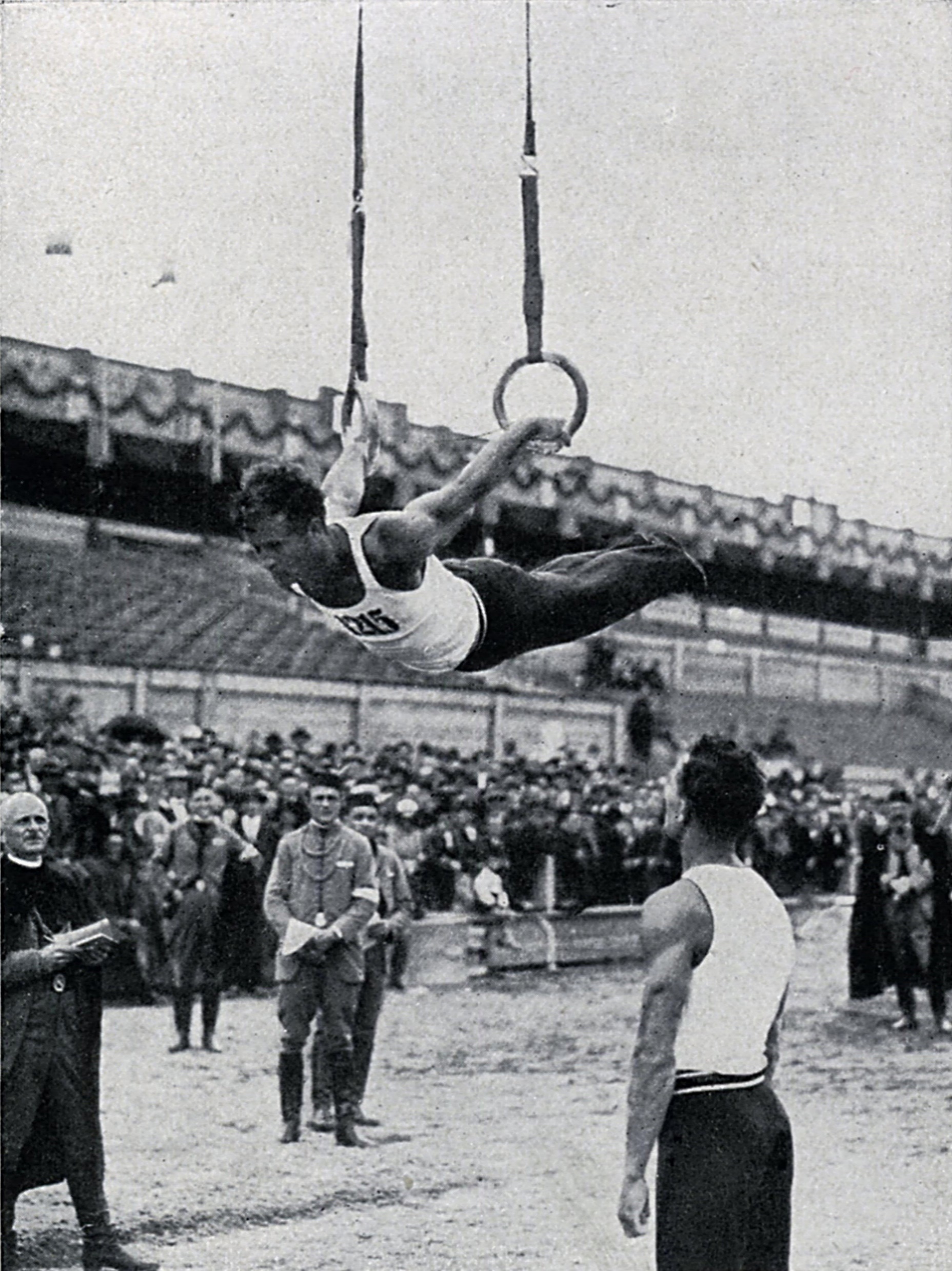 Two Czech Sokol legends of competitive gymnastics: Dr. Jiři Guth-Jarkovský (1861-1943) and Marie Provazníková (1890-1991)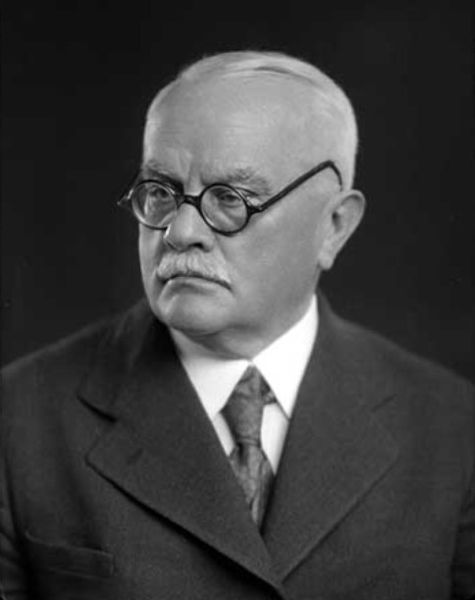 Sokol's Guth-Jarovský promoted Czech sports and became a member of International Olympic Committee at the time of the first Modern Olympic Games (1896) and served until the Second World War. He brought Sokol into the Olympic Movement and established the Czech Olympic Committee. He wrote many books and promoted "decent social behavior" in sports.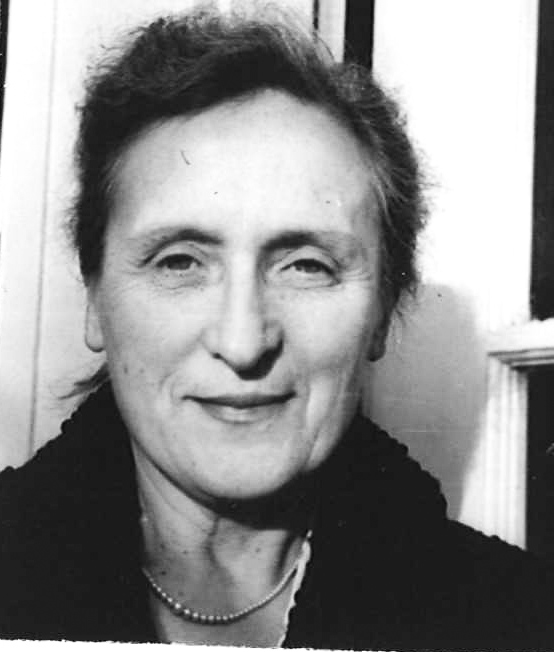 Provazníková was an innovative teacher who advanced girl's and women's gymnastics, as Women's Director of Czech Sokols. She served on the governing board of the Federation International Gymnastics and was an organizer of the 1948 Olympics, and assembled the Czechoslovak Women's Gymnastic team, which won the gold medal at the London Olympics. Due to the Communist take-over, she defected to the US where she continued her work with the American Sokols, by training teachers and coaches of gymnastics, and as a college professor. She wrote several books and played a key role in the establishment of Rhythmic gymnastics as a sport. (photo from Czech Republic National Museum Archives)
Tyrš' Successor: Dr. Josef Scheiner (1861-1919)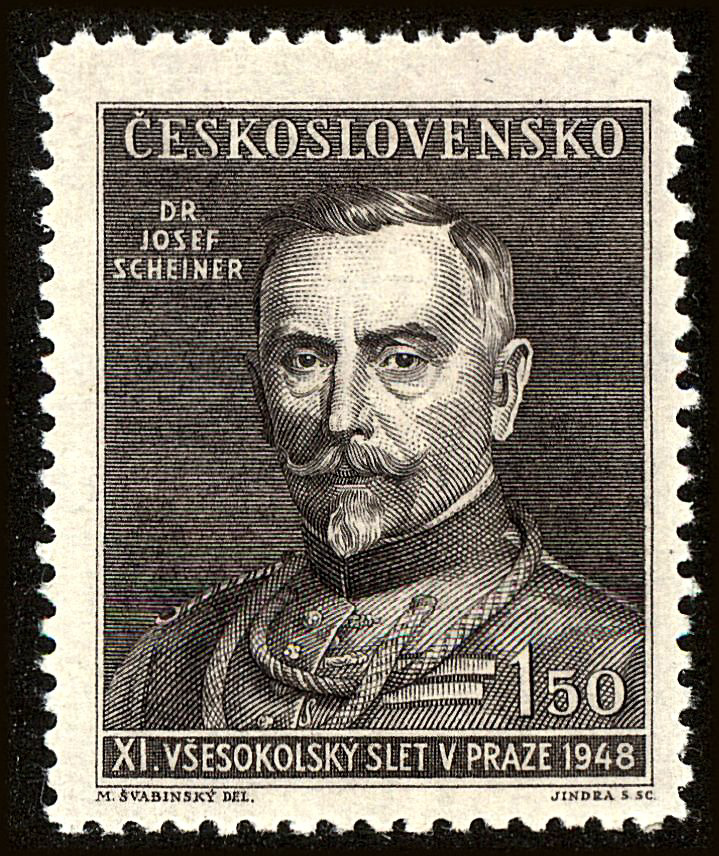 • Scheiner was a co-worker of Miroslav Tyrš and became his successor in 1887.
• He was known as a skilled organizer and leader (e.g., formation of the Czech Union Sokol in 1889 and as its president in 1906, supporter of Czech Legionnaires during World War I, and formation of training schools for Sokol instructors).
• Scheiner supported Czech participation in competitive gymnastics, in the tradition of his predecessor, Tyrš. He led Sokol into the International Gymnastics Federation and helped bring the World Gymnastics Championships to Prague in 1907, in which Bohemia won 8 of the 16 medals awarded.
• Unfortunately, the important and numerous contributions to competitive gymnastics he and other Sokol legendary figures made, are seldom mentioned in historical reports. This omission was likely due to the erroneous assumption that Sokol training is limited to fitness and culture.
Golden Years of Sokol Gymnastics: 1920 -1938
Creation of Czechoslovakia enabled Sokol to thrive in the new national era of hope, in which the Sokol movement advanced, as evidenced by 1) establishment of schools for training instructors, 2) a 4-fold increase in juniors and children participating in gymnastics, and 3) a large increase in the number of women joining Sokol. The number of Sokol clubs increased dramatically. By 1930, 56,376 men and 34,829 women were attending gymnastic classes
• The first gymnastics Olympic gold medal won by a Czechoslovakia team member, was by Bedřich Šupčík in the rope climb in 1924. He also won the bronze medal in the all-around event.
• In the 1928 Olympics, Czechoslovakia's team won the silver medal and four individual medals; Ladislav Vácha won gold on the parallel bars. Then in the 1930 World Gymnastic Championships, they won 9 medals including gold in team, all-around, and rings.
• After placing 2nd in the 1936 Olympics, the women won the team and all-around events in the 1938 World Championships; the men's team also won gold and a total of nine medals.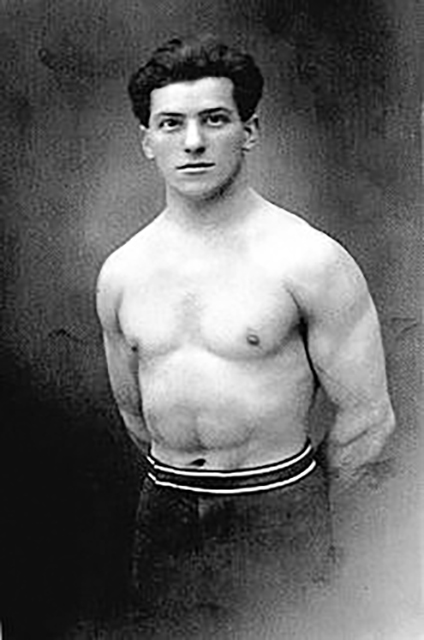 Bedřich Šupčík, 1924 Olympian
Czech (Sokol) International Gymnasts
Left photo (Czech Union Sokol): exhibition in Paris, circa about 1920. Right photo (Czech National Museum Archives): team practice (date unknown).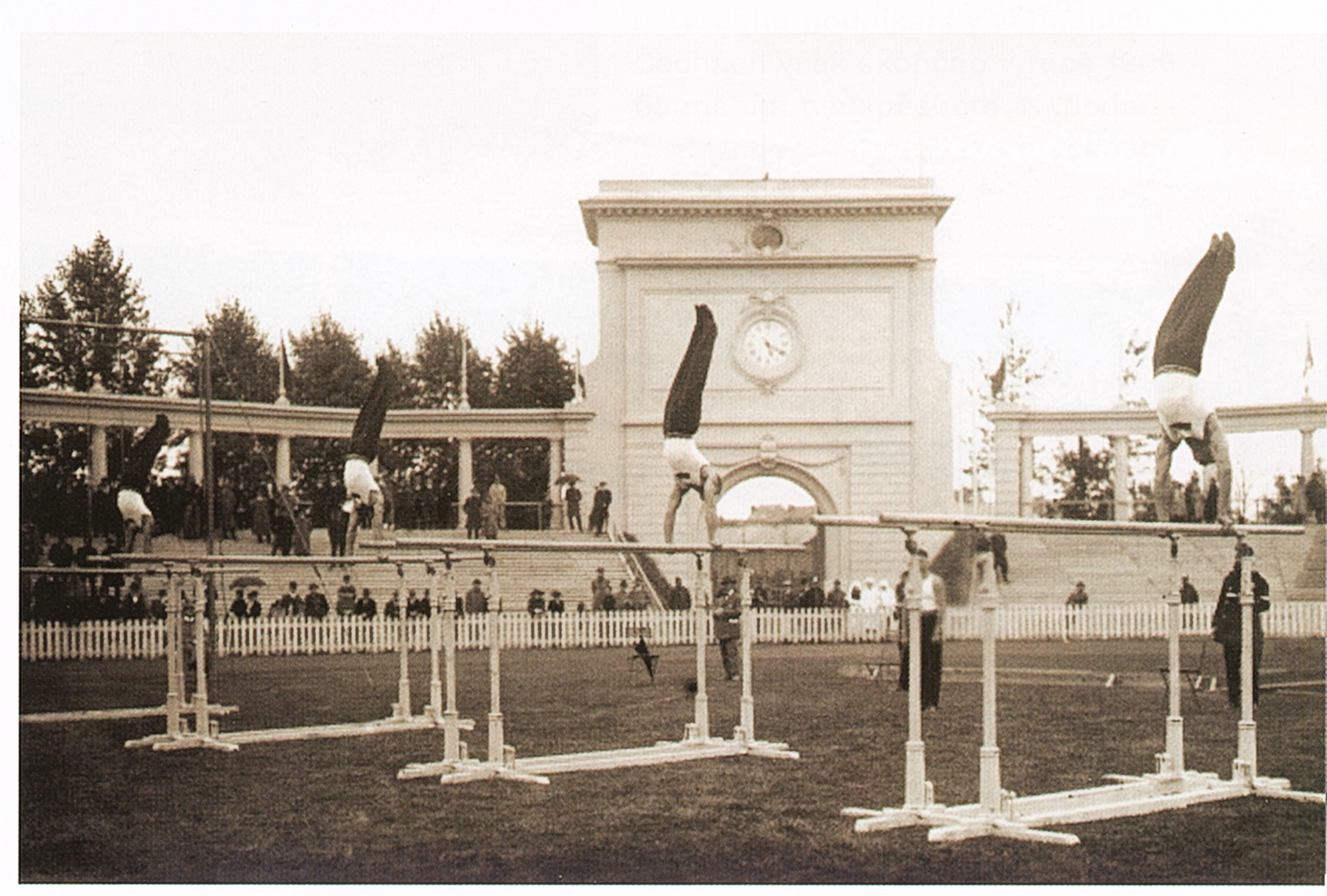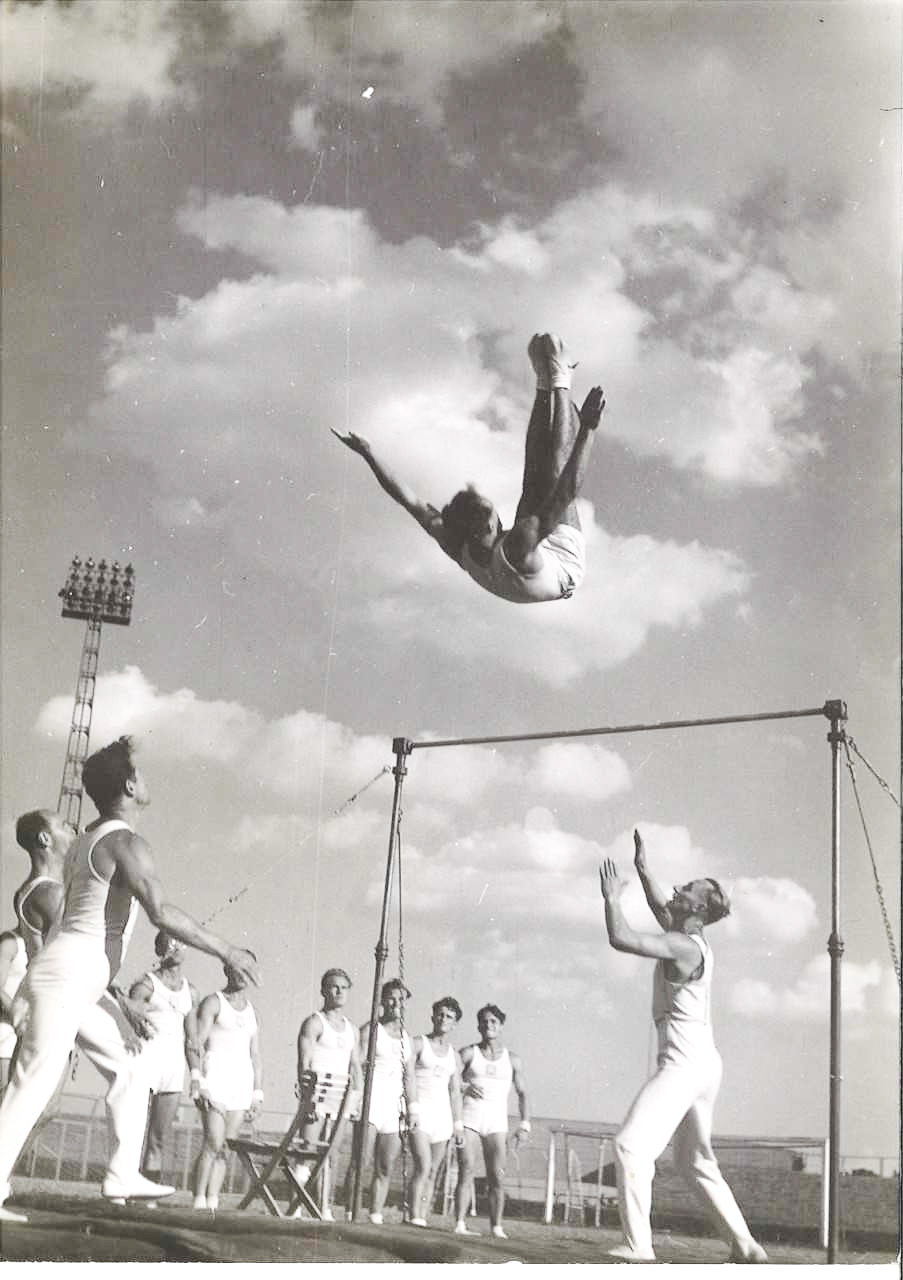 Czech international gymnasts were Sokol-trained and Sokol leaders were involved in these competitions.
Jiřr Guth-Jarovský was on the Olympic Committee for many decades from the time of the first Modern Olympics in 1896. A Czech Republic postage stamp in 1996 honors his memory.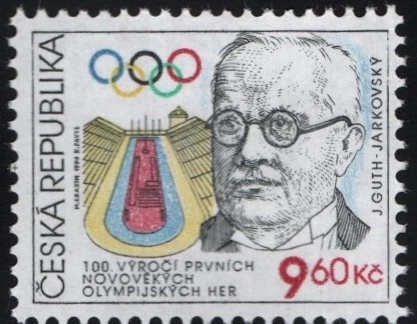 Photos of Czechoslovak world champion teams of 1926 (left) and 1938 (right) are below.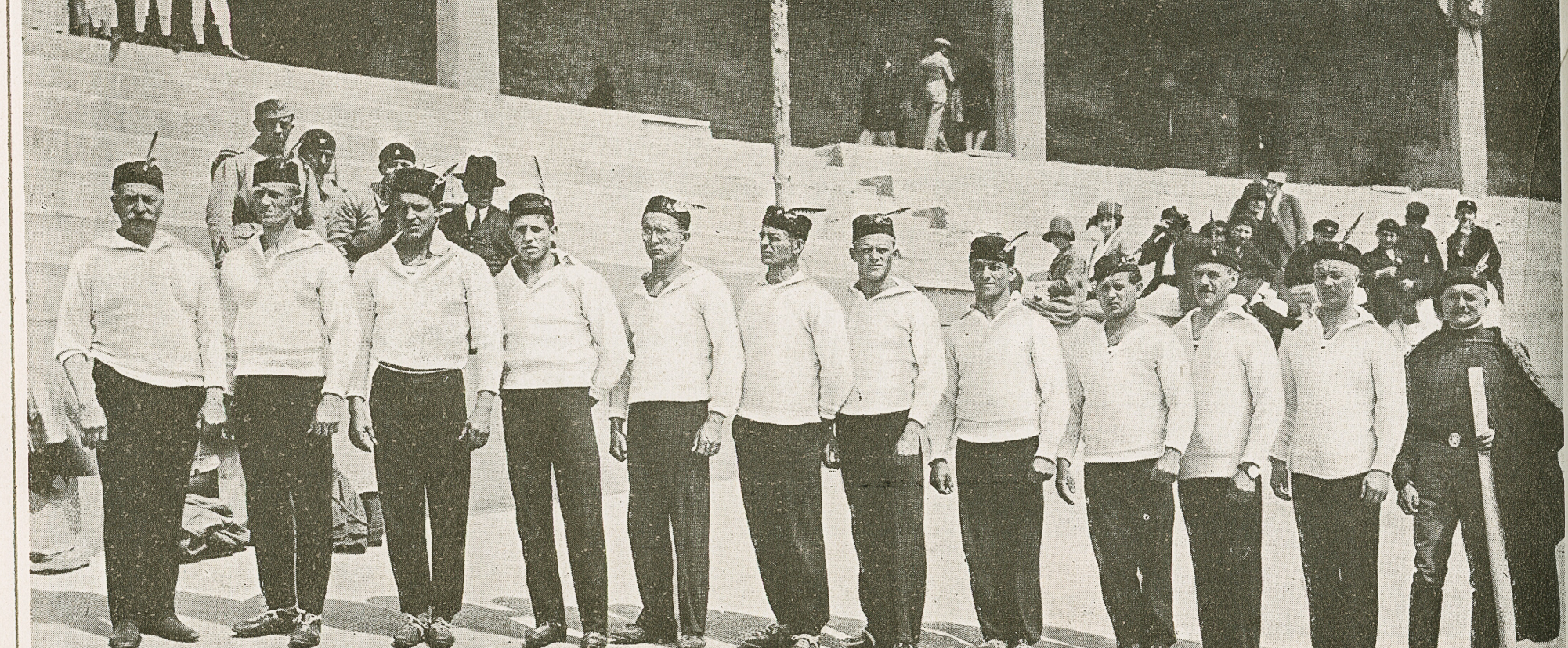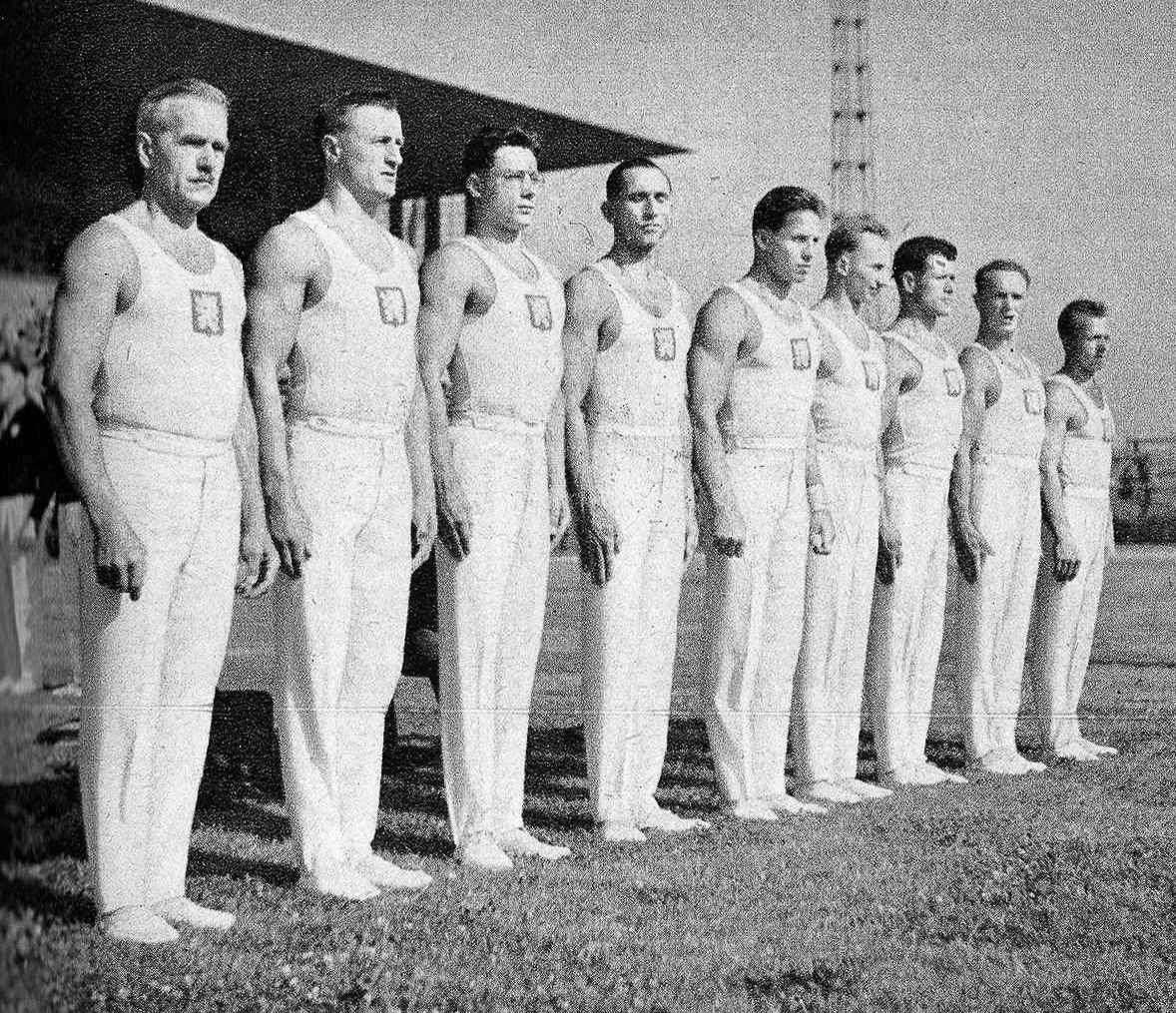 Ladislav Vácha 1928 Olympic parallel bar champion
Vácha was a member of Sokol Brno in Moravia and won 2 bronze medals in the 1924 Olympics (rings and rope climb).
In the 1928 Olympics he won gold for parallel bars and silver for rings. The Czechoslovak team placed second.
He is on the far right in the photo, next to Bedřich Šupčik, who won the rope climb in the 1924 Olympics. Jan Gajdoš, the 1938 World all-around champion is the 3rd man from the left.
The photo (encykopedie.brna.cz) is a tribute to the outstanding Brno team.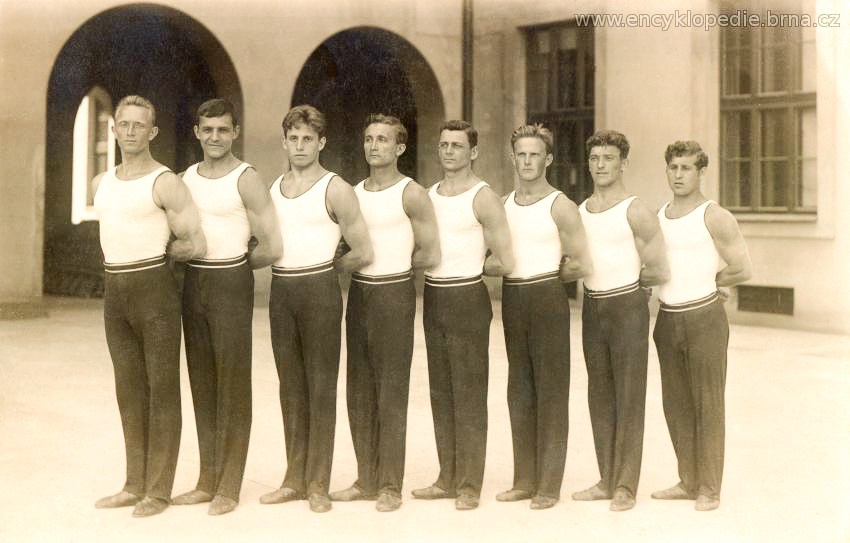 Czech-Sokol Trained Medalists in Olympic Gymnastics
Men
1912 Team silver medal.
1920 No medals (Sokol activity was prohibited from 1914-1918).
1924 Nine medals. Team silver; all-around: Robert Pražák silver, B. Šupčik bronze; rope climb: B. Šupčik gold, Ladislav Vácha bronze; rings: Robert Pražák silver, Ladislav Vácha bronze; vault: Jan Koutný silver, B. Mořkovský bronze.
1928 Team silver; parallel bars: L. Vácha gold; rings: L. Vácha silver, Emanuel Löffler bronze; vault: Emanuel Löffler silver.
1932 Czechoslovakia did not participate.
1936 Rings: Alois Hudec gold.
1948 Rings: Zdeněk Růžička bronze, floor: Zdeněk Růžička bronze vault: Leo Sotorník bronze.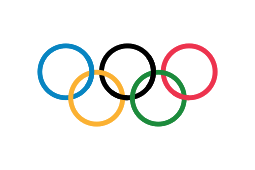 Women
Olympic competition in gymnastics for women began in 1928, but Czechoslovakia women did not participate. In 1932 there was no women's competition.
1936 Team silver medal; beam: Zdenka Veřmiřovská silver.
1948 Team gold; individual medals not awarded, however, Zdeńka Honsová had the top scores in all-around, beam and rings. Miloslava Mišková had the second highest score on beam.
1936 Czechoslovak Men's Olympic Team
Gold medal winner of Rings event, Alois Hudec is first man on the right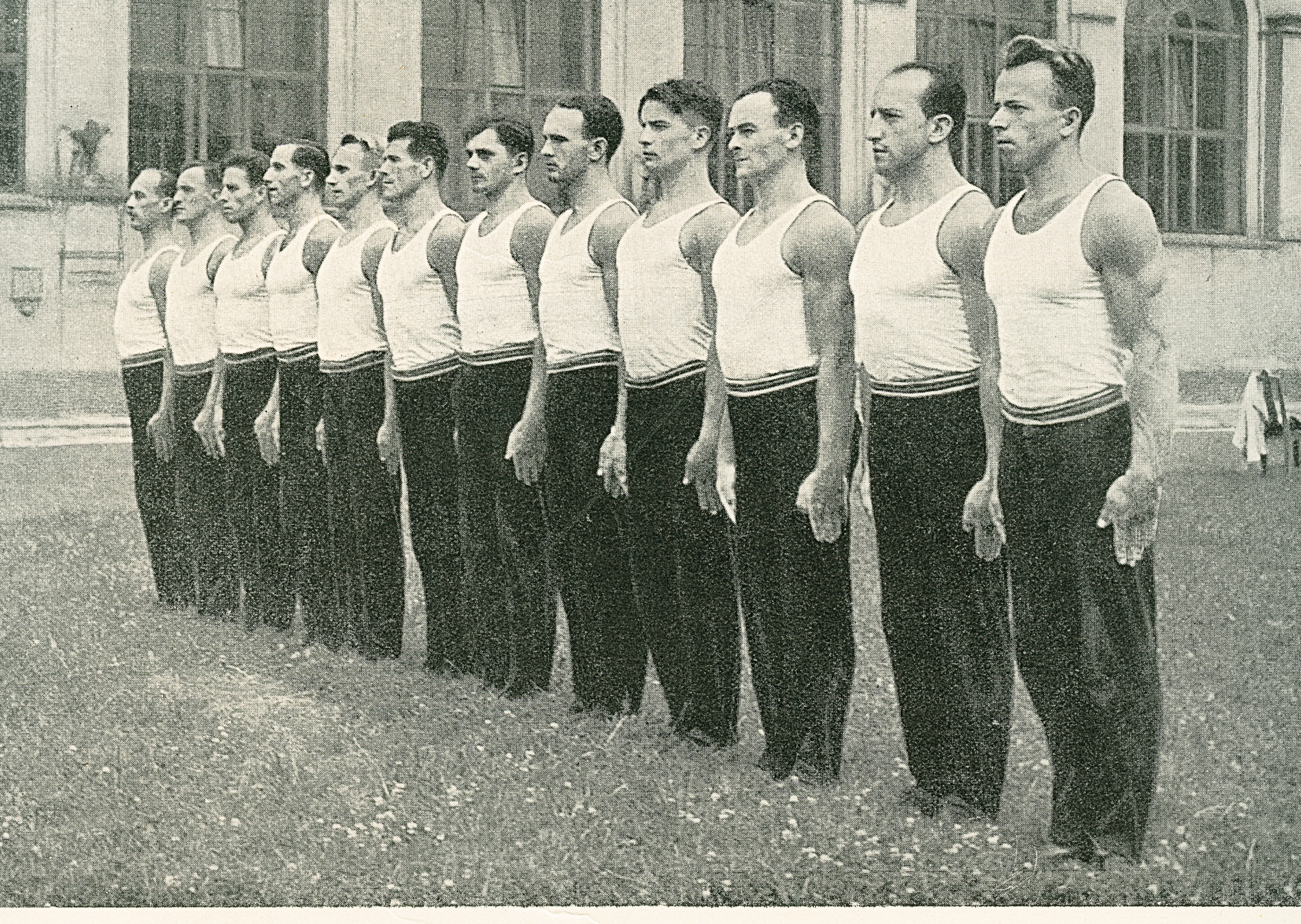 Czech Sokol-Trained World Gymnastic Champions
Men
1907 Team gold; all-around: Josef Čada gold, F. Erban bronze.
1909 Team silver; all-around: Josef Čada silver.
1911 Team gold; all-around: Ferdinand Steiner gold.
1913 Team gold; all-around: Karel Starý gold, Josef Sykora bronze.
1922 Team gold; all-around: F. Pechácek gold.
1926 Team gold; all-around: J. Effenberger silver, L. Vácha bronze.
1930 Team gold; all-around: Jan Gajdoš silver, E. Löffler bronze.
1934 Team silver; all-around: E. Löffler bronze; rings: Alois Hudec gold, J. Kollinger bronze; pommel horse: Jan Sladek bronze .
1938 Team gold; all-around: Jan Gajdoš gold; floor: Jan Gajdoš gold, Jan Sladek silver; rings: Alois Hudec gold, V. Petráček bronze; horizontal bar: Alois Hudec silver; parallel bars: Alois Hudec silver; pommel horse: V. Petráček silver.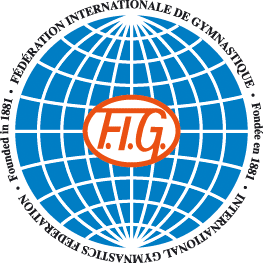 Women
FIG World Artistic Gymnastic competitions began in 1934, 27 years after the first men's competition.
1934 Team gold; Vlasta Děkanová all-around gold.
1938 Team gold; All-around: Děkanová gold, Zdeńka Veřmiřovská silver; beam: Vlasta Děkanová gold, Matilda Pálfiová bronze; bars: M. Pálfiová & Vlasta Děkanová tied for gold; floor M. Pálfiová gold.
Vlasta Děkanová World Gymnastic Champion in 1934 and 1938
Děkanová (1909 -1974) was a two-time world champion and member of the Czechoslovak team that also placed 1st in these world championships.
The 1934 World Championships did not award medals for individual events. In 1938, Děkanová won 3 of the 4 individual events: vault, beam and uneven bars. She was the coach of the women's team that won gold in the 1948 Olympics.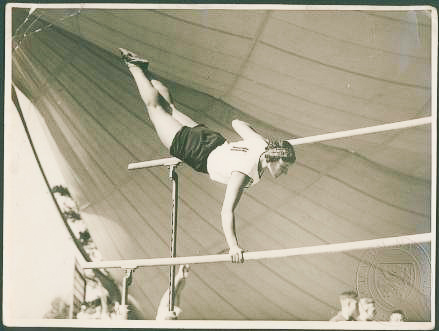 World Champion Czechoslovak Women's Gymnastic Team (1938)
(Vlasta Děkanova, 5th from right was the 1934 and 1938 World Champion)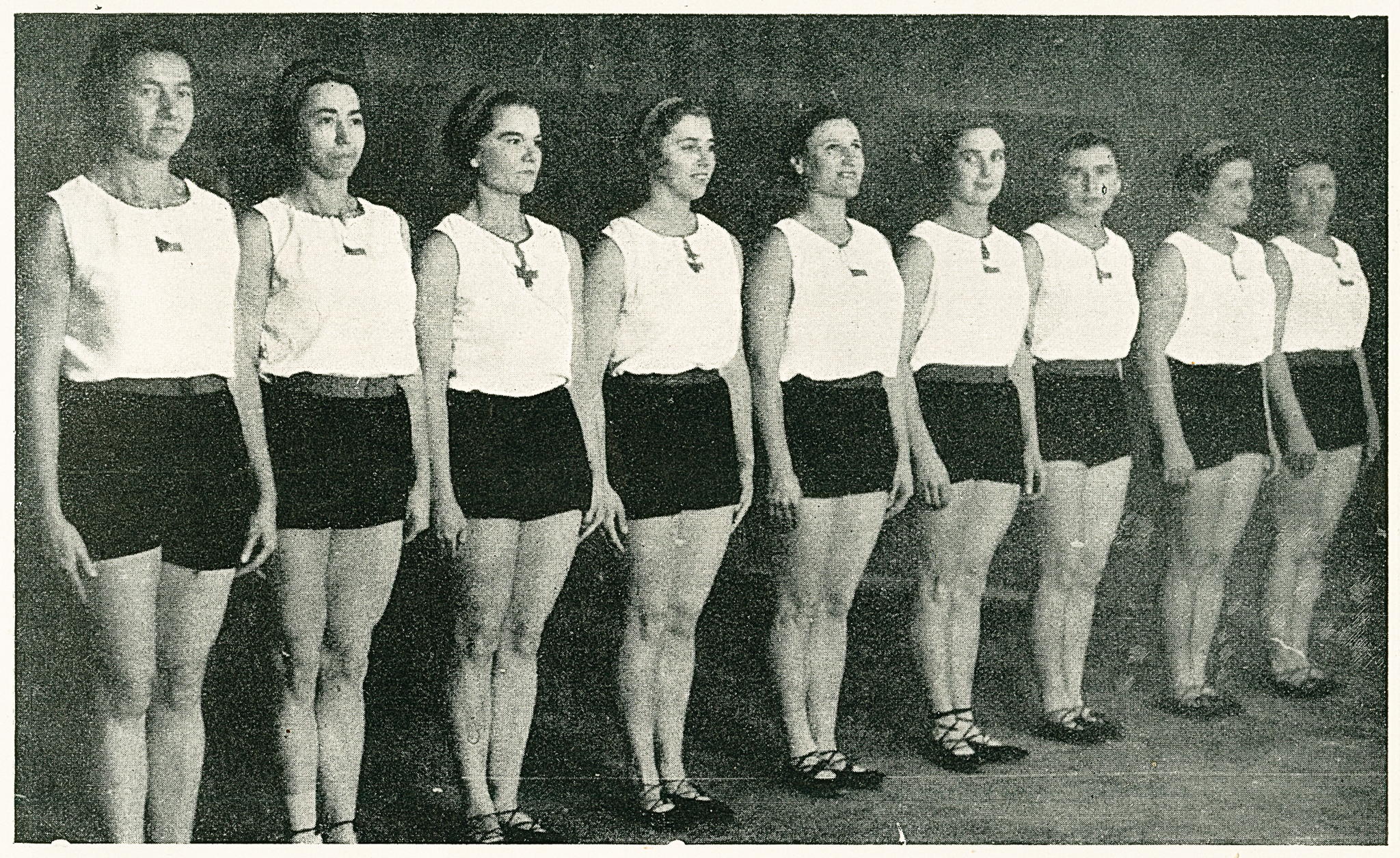 Czechoslovakia: 1938 World (Federation International Gymnastics) Men's Gymnastic Team Champions
Individual Medals
Jan Gajdoš: gold all-around and floor exercise
Alois Hudec: gold rings; silver floor exercise, & horizontal bar
Vratislav Petráček: silver pommel horse, bronze rings
Jan Sládek: silver all-around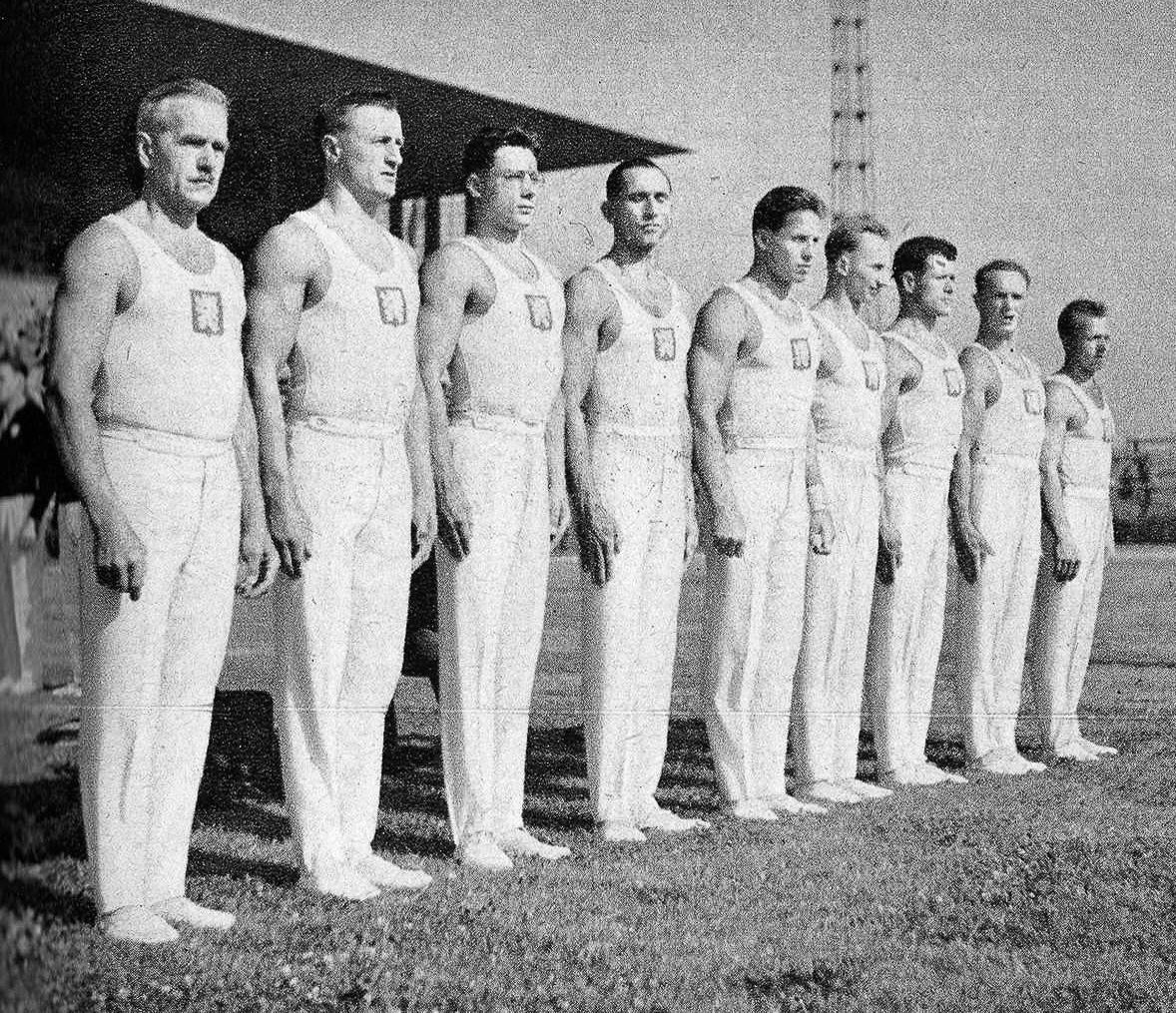 Czech international champions of Sokol Brno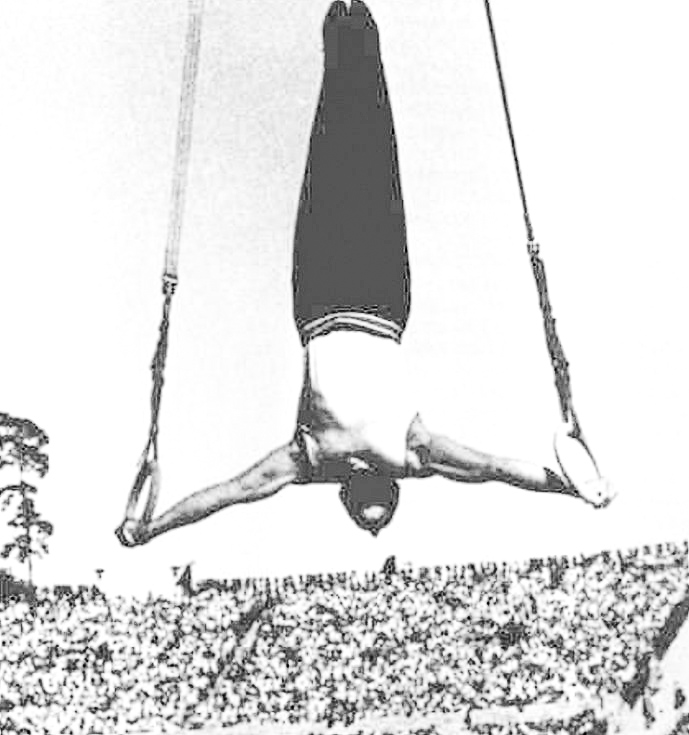 • Alois Hudec (left photo) gold medal winner on the rings at the 1936 Olympics and at the 1931, 1934 and 1938 World Championships. He also medaled in many other events.
• Jan Gajdoš (right photo from Ivana Gajdošova) had a long career after failing to make the 1924 Olympic team, he competed in the 1928 and 1936 Olympics and in the 1926, 1930, 1934 and 1938 World Championships; he wo gold medals for the all-around and floor exercise in the 1938 championships. Gajdoš was active in the Resistance during World War II and died after being captured by the Nazis.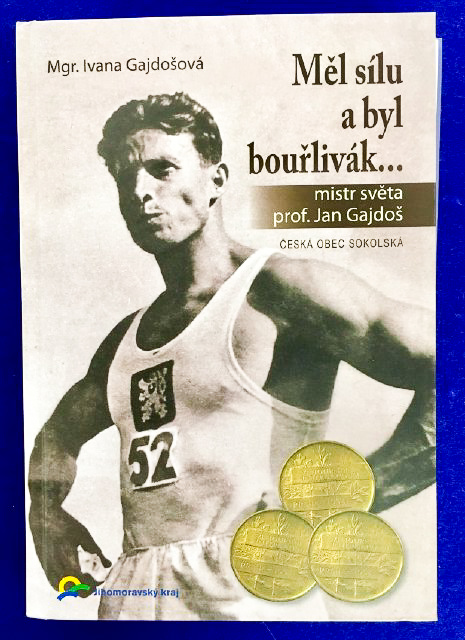 Book by Ivana Gajdošová, about Jan Gajdoš: "He had Strength and was Stormy"
• Sokol Brno is also proud of its other Olympic and world compitors: Ladislav Vácha, Bendřich Šupčik, Zdeněk Růžička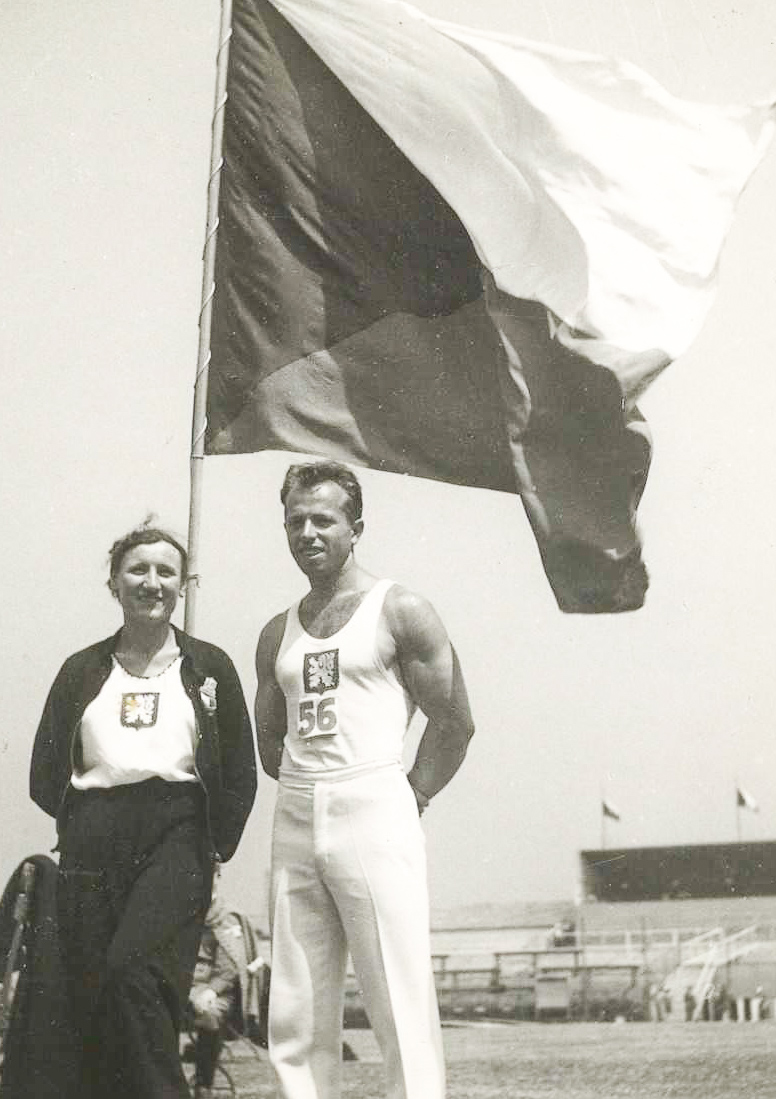 Czechoslovak Sokol-trained International Gymnasts
• 1936 Olympic medalists: Alois Hudec: gold – rings event; and
Vlasta Děkanová: team silver (left photo). also World Champions. Děkanová coached the women's team that won the 1948 Olympics in London.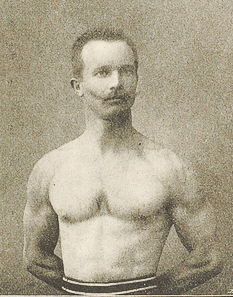 •
František Erban
(right photo) competed in the 1900 Paris Olympics as a member of the Bohemian team. In the 1907 World Championships he became the first Czech gymnast of international fame by winning two gold and four bronze medals. In 1942 he was executed by the Nazis, because of his resistance efforts during their occupation of Czechoslovakia.
President Tomáš Masaryk (arrow) and Czechoslovakia's men's International Sokol Gymnastic Team (photo circa 1930's)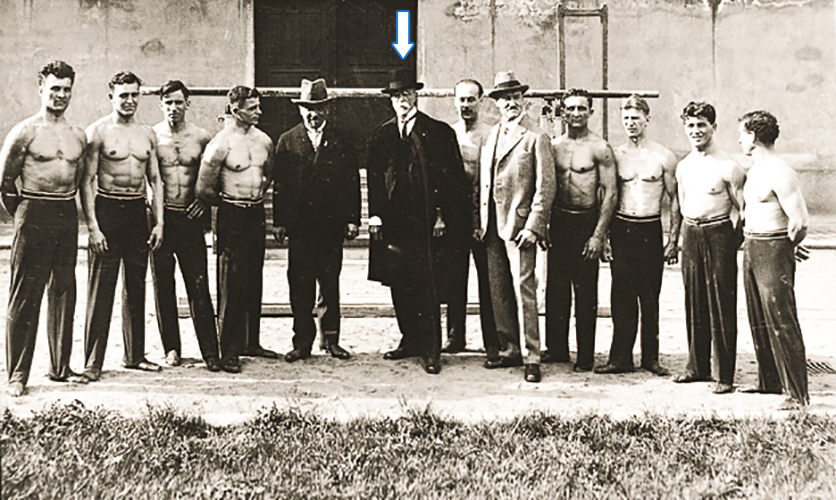 Czechoslovakia: 1948 Women's Sokol-trained Olympic Gymnastic Team Champions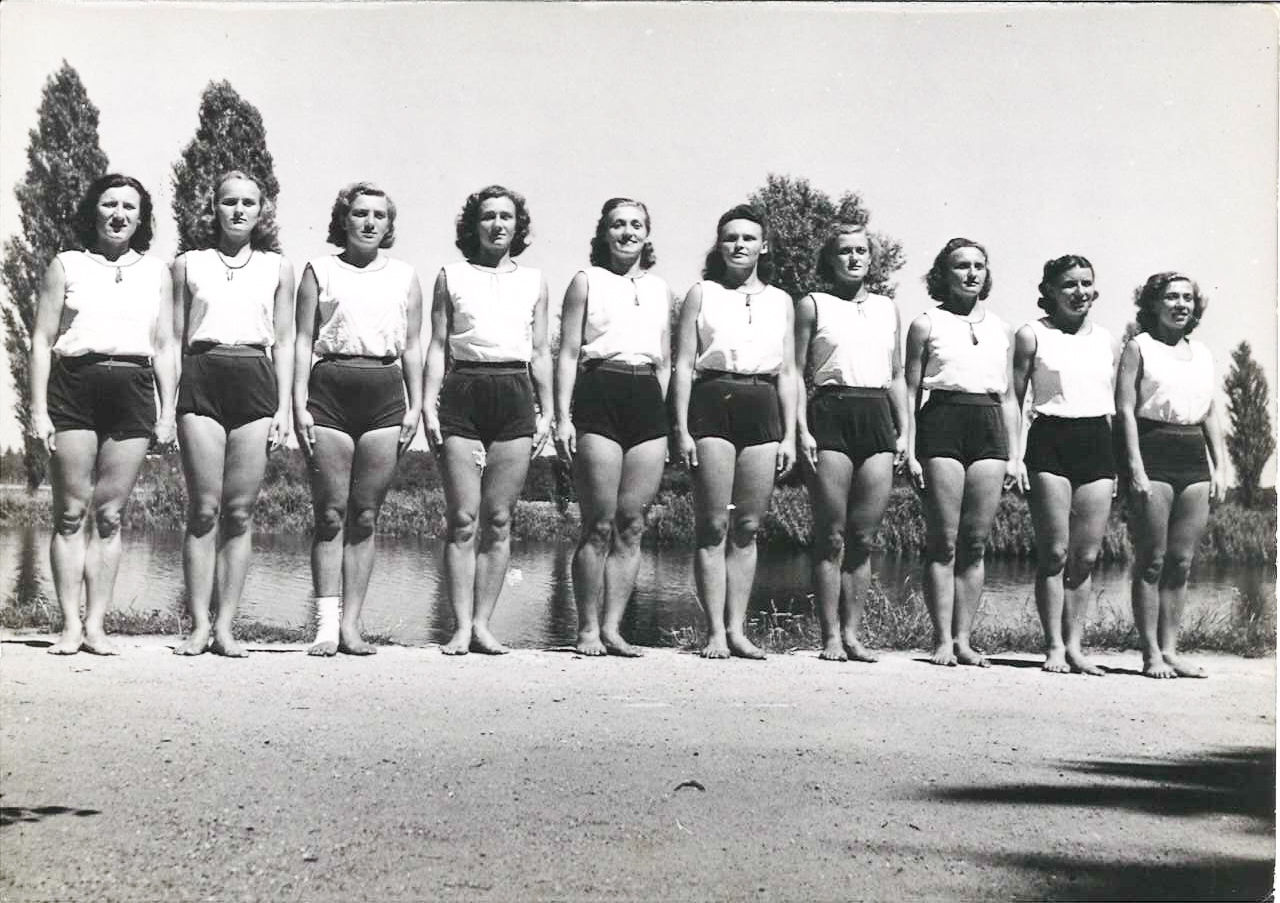 • Věra Růžičková, second from left in the photo, was a substitute who competed because of the sudden death of a teammate. She had the third highest score of her team and thereby contributed to her team's first place finish.
• Vlasa Děkanová (far left in photo), a World Champion in 1934 & 1938, was the team's coach.
• Zděnka Honsová (4h from right in photo) had the top scores in all-around, beam and rings.
• Marie Provazníková, the team's leader defected and immigrated to the US, due to her opposition of Communist infiltration of the Czech government.
Czechoslovak Women's Gymnastic Team wins 1948 Olympic gold, but loses team member
• Eliška Misáková, an outstanding international gymnast, traveled to London as a member of the gifted Czechoslovak team, but was diagnosed with polio and hospitalized.
• Her place on the team was taken by Věra Růžičková, who had qualified as a substitute, and performed so well that she helped her team win the gold medal.
• Misáková died during the competition and is the only athlete to receive an Olympic gold medal posthumously.
• She was member of Sokol Vyškov, where she is still remembered.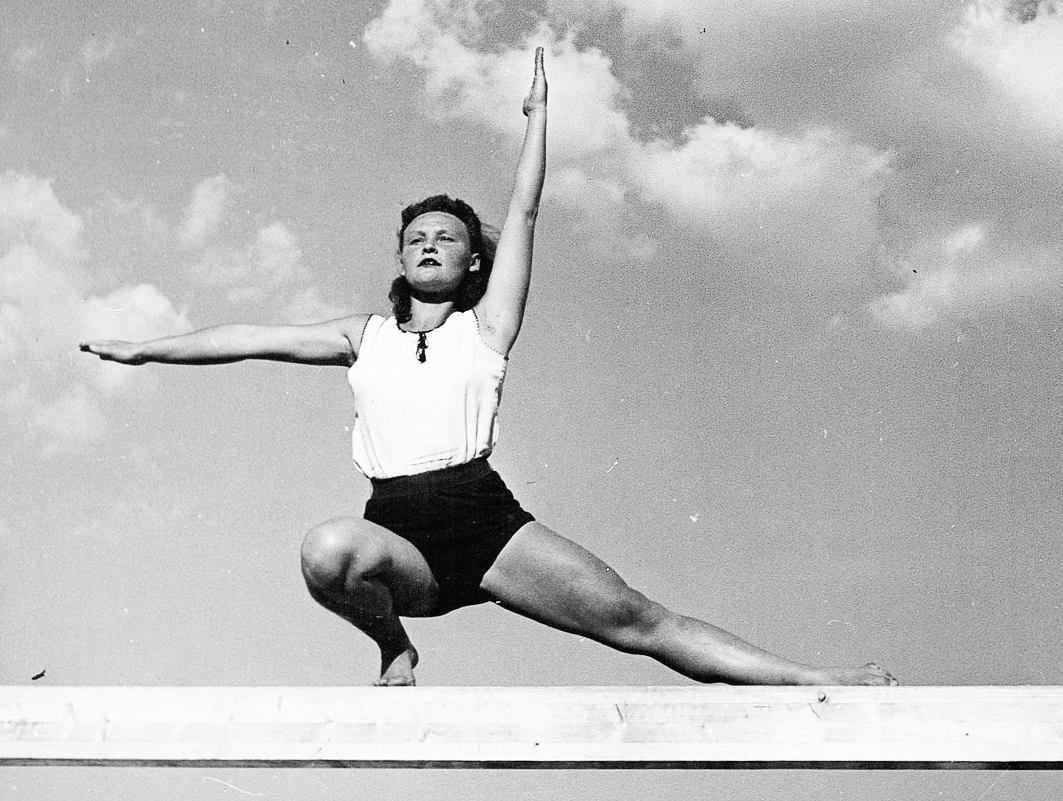 Věra Růžičková member of 1948 Czechoslovak Olympic gold medal team
Růžíčková (1928-2018) of Sokol Brno at the age of 79 in the photo below, holds her gold medal from the 1948 Olympics. She was the youngest member of the women's gymnastic team, and originally a substitute. Called to take the place of an ailing teammate, she helped the team win gold; her score was sixth best in the field of 90 gymnasts.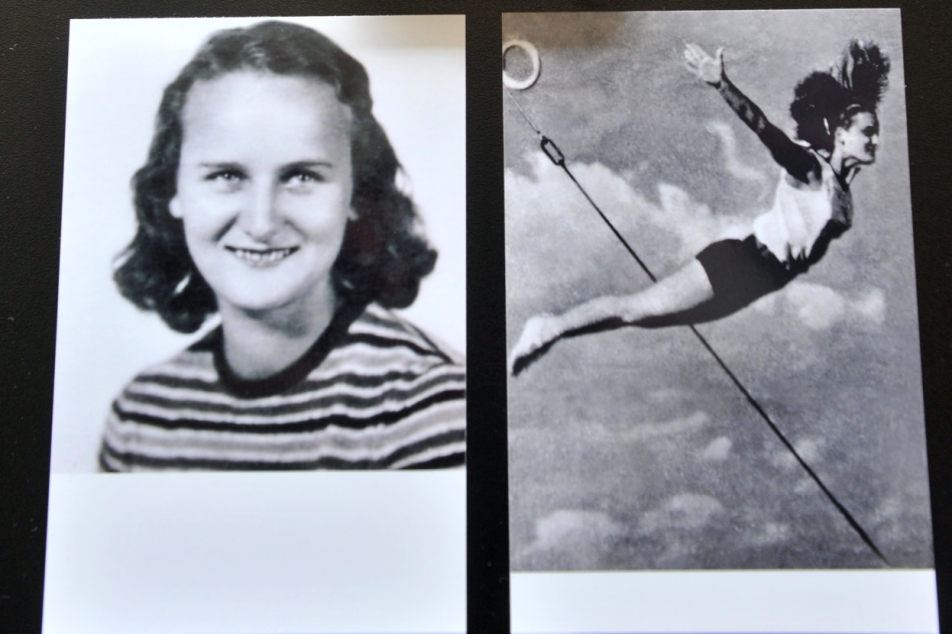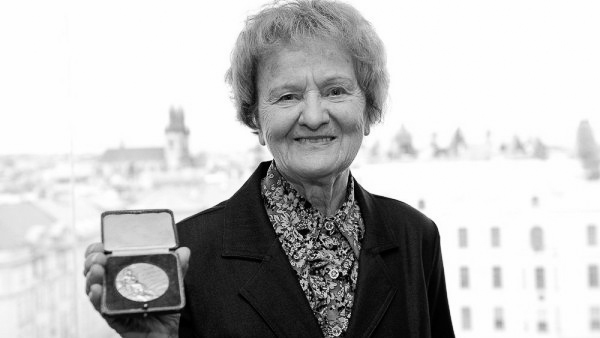 • Legendary gymnast Věra Čáslavská won more Olympic gold Medals in gymnastics than any other female gymnast. She competed for Czechoslovakia after Sokol had been forbidden, but her training was never-the-less the Sokol model.
• She supported Czechoslovak democratization in 1968. At the Olympics that year in Mexico, while on the victory stand, she turned her head away as the Soviet flag was raised and their anthem played. This protest, and the fact that she signed the Manifesto rejecting Soviet involvement in her country in 1968, caused her being banned from working or traveling in her country. After the revolution of 1989 she again began coaching and from 1995 – 2001 she was a member of the International Olympic Gymnastics Committee.
Věra Čáslavská (1942 - 2016)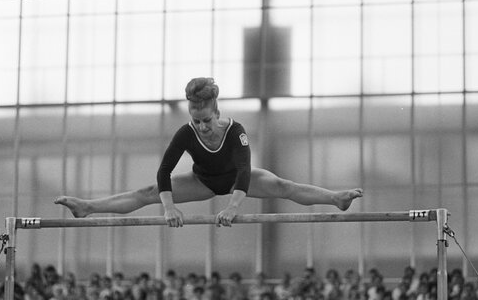 Photo above from Čáslavská Website
• Olympic medals: 7 gold in 1964 & 1968; 4 silver in 1960, 1964 & 1968.
• World Championship medals: 1 gold & 2 silver (1962); 3 gold & 3 silver (1966).
• European Championships: 11 gold (1959 -1967).
Věra Čáslavská holding gold medal she won in the 1964 Oympics. Photo by Czech News Agency from Čáslavská's Official Website.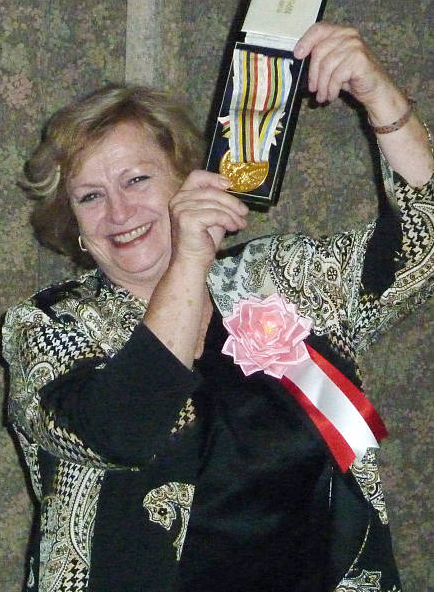 Zdeněk Růžička (1925-2021): three-time all-around Czechoslovak gymnastic champion and winner of bronze medals on the rings and floor exercise events at the 1948 Olympics.
Růžička trained at Sokol Brno and was an admirer of two of their great gymnasts, from the 1930s, who were Olympic and World champions: Alois Hudec and Jan Gajdoš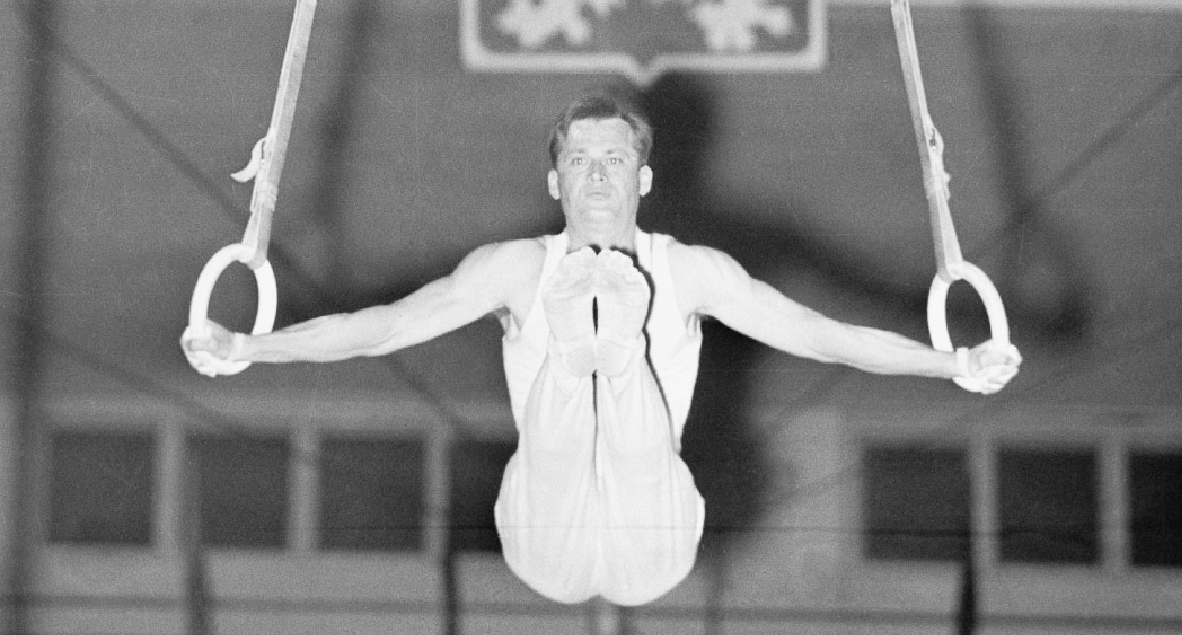 American Sokol Olympic Gymnasts of the 1920s
Sokol New York's Frank Kriz was a member of US Olympic teams 1920, 1924, 1928 and won the gold medal for the long horse vault in 1928. This was the first gold medal won by a US gymnast in an Olympic or World competition held outside the US. Kriz was National AAU all-around champion in 1922 and 1924. He was a New York City firefighter and erected a horizontal bar behind the firehouse so he could train while at work. In 1959 he was posthumously inducted into the US Gymnastics Hall of Fame (photo, bottom left, from US Gymnastics Hall of Fame).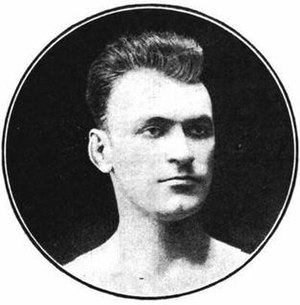 Three of the eight members of the 1924 US Olympic gymnastics team were Sokol members. In addition to Kriz, Rudolf Novak of Sokol Cedar Rapids (right photo) and Frank Safanda of New York D.A. (Worker's) Sokol were on the team. Novak played college football and was 35 years old when he competed in the 1924 Olympics.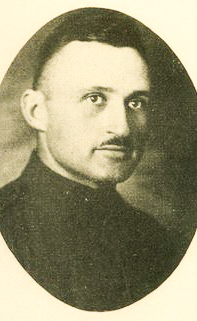 Some Notable Early Sokol Gymnasts: Winners of US Championships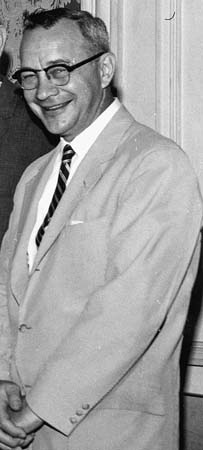 • Frank Jirasek won the National AAU all-round championship and parallel bar event in 1909 as a member of Sokol New York (Bohemian Gymnastics Association), and then in 1910 as a member of Sokol Cedar Rapids.
• William Heisler of Sokol New York won the silver medal in the all-around and the gold in vault 1909 and 1910. Sokol New York won the team gold in 1910.
• Rudolf Hradecky (photo), an inductee of the US Gymnastic Hall of Fame, was an exceptional long horse vaulter from Sokol New York. He won the National AAU title on the event five times: 1928, 1936, 1944, 1946, 1947. His first title was at the age of 19 and the last at the age of 38. Hradecky served as Sokol New York's Director of Men and was a role model for aspiring gymnasts .
Ladislava (Laddie) Bakanic (1924-2021), U.S. Olympian
A member of Sokol New York, Laddie (Hinz) Bakanic (left) was a member of the U.S. Women's Olympic team, which placed third in the 1948 London Olympics.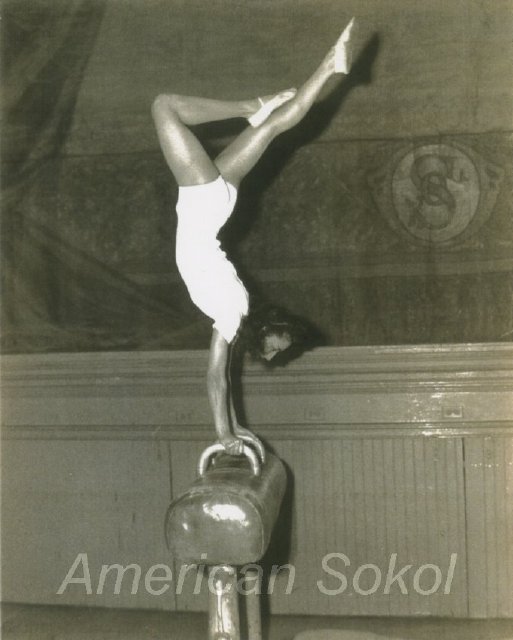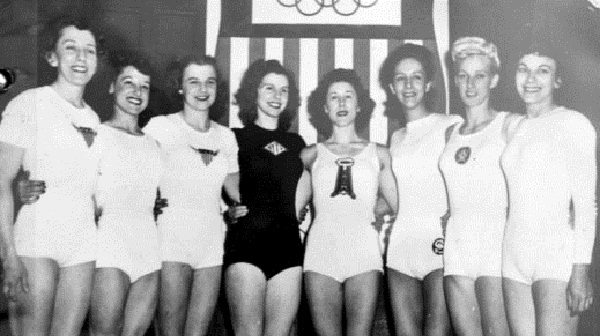 1948 US Women's Olympic team: Bakanic is 3rd from right.
Sokol Chicago's two inductees to the US Gymnastics Hall of Fame
Henry Smidl (1894-1985): a champion gymnast taught and coached in Chicago high schools. He introduced and developed competitive gymnastics in Illinois high schools.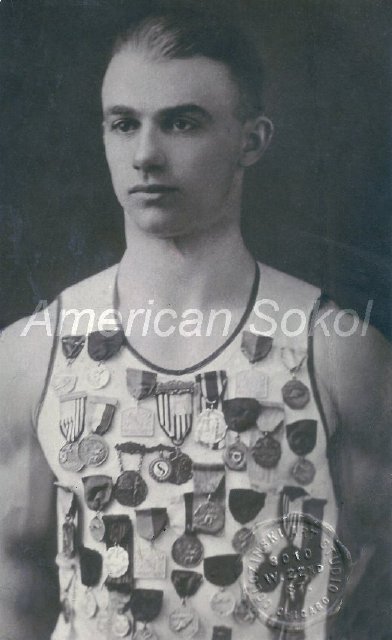 Paul Fina (1916-2009), national NCAA and National AAU gymnastic champion; selected for the 1940 US Olympic team; member of the US International Gymnastic Team. Fina served as an international gymnastics judge and member of the Olympic committee (photo: US Gymnastics Hall of Fame).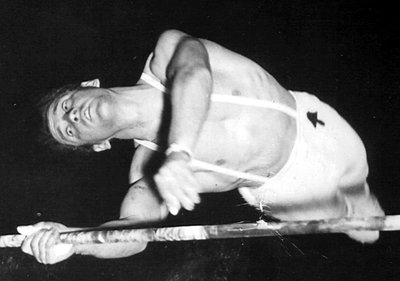 Sokol Omaha's two US Gymnastic Hall of Fame Inductees (both coached by Phil Cahoy Sr.)
James Hartung: 1980 & 1984 Olympian, NCAA national champion & winner of 22 gold medals.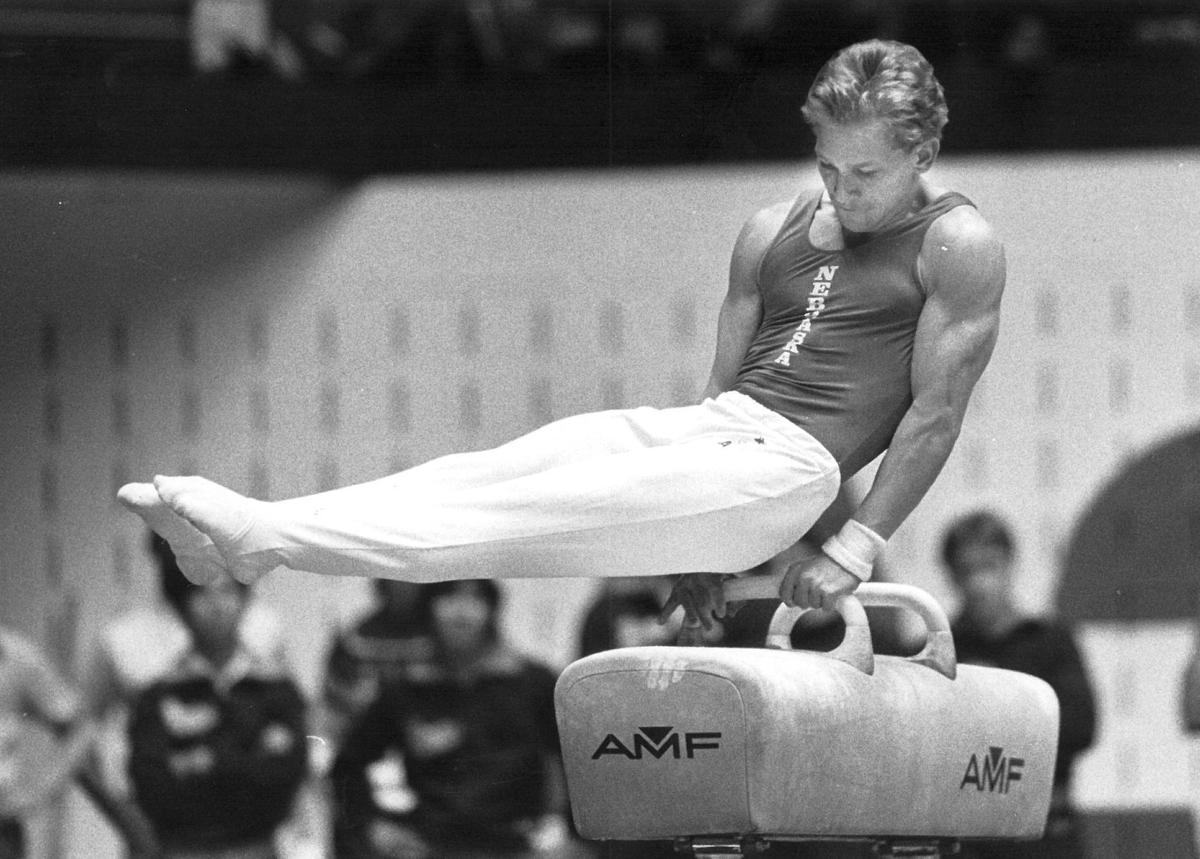 Phil Cahoy Jr.: 1980 Olympian, NCAA national champion, member of 4 international teams (photo: Lincoln Star Journal).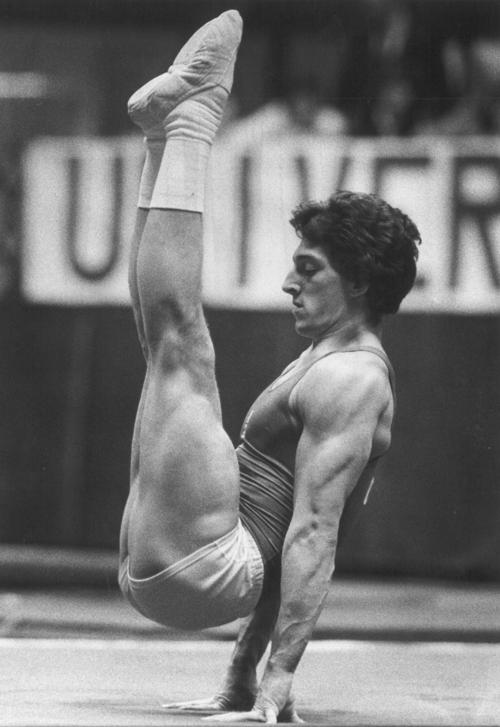 In 1924 and 1980 Three Sokol Members Earned Spots of the US Men's Gymnastic Teams
1924: Frank Kriz, Sokol New York; Rudolf Novak, Sokol Cedar Rapids, Iowa; Frank Safranda, D.A. Sokol in New York.
1980: Phil Cahoy and Jim Hartung, Sokol Omaha; Mike Wilson (alternate), Sokol Dallas. The photo below, from International Gymnast is the US men's and women's teams of 1980, which did not compete because of the US boycott.

Mike Wilson of Sokol Dallas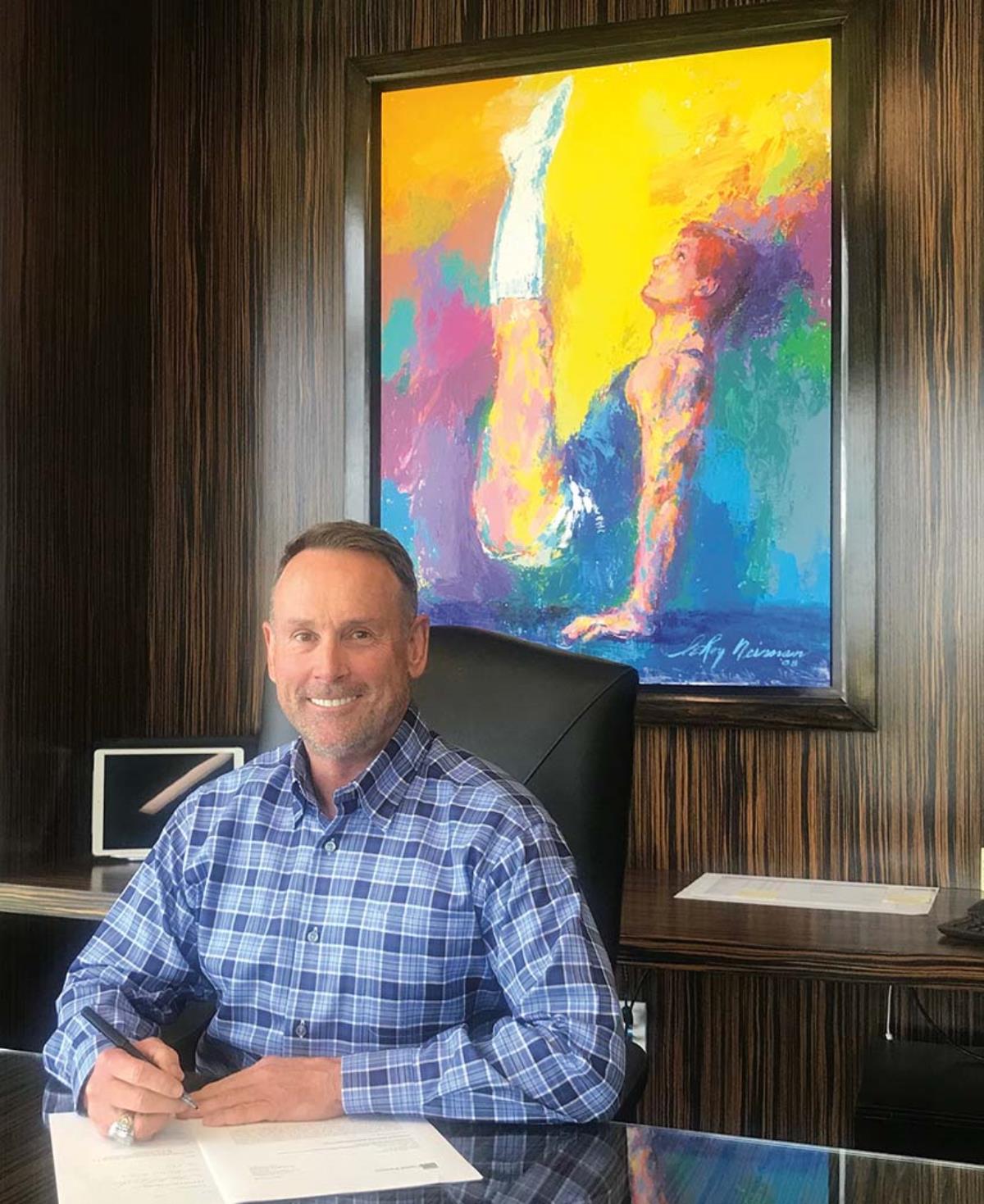 Sokol New York's Four US Gymnastic Hall of Fame Inductees
Frank Kriz: 1920, 1924, & 1928 Olympian and national champion.
Rudolf Hradecky: five-time national vaulting champion (1928, 1936, 1944, 1946 & 1947).
Jerry Hardy: international judge and coach.
Norma Zabka: organizer and promoter of the new sport of rhythmic gymnastics, and an international judge for the sport (photo on this page).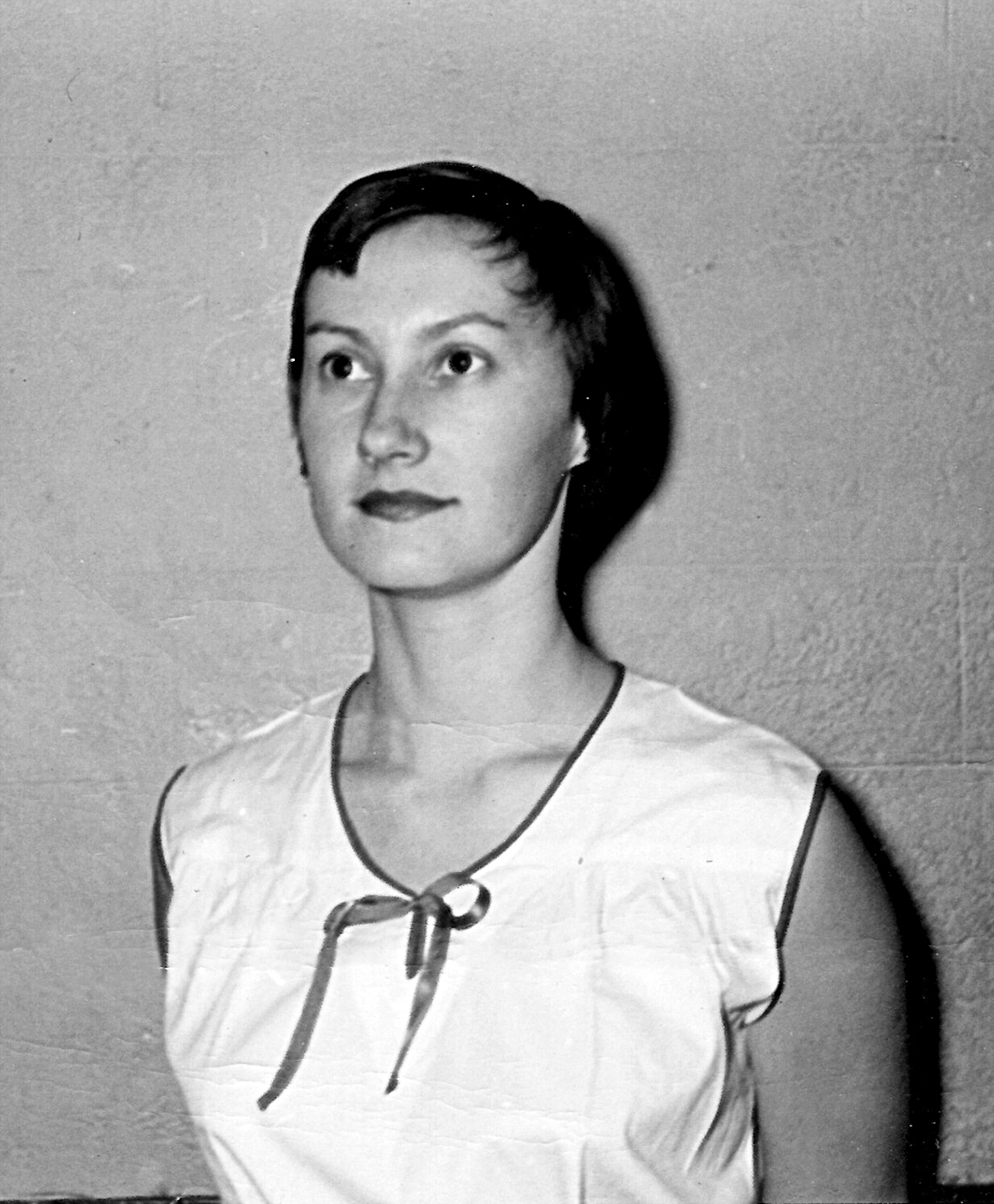 Three Sokol Women in US Gymnastics Hall of Fame who helped establish rhythmic gymnastics as a sport
Mildred Prchal (1895-1983)
Sokol Tabor, Berwyn, IL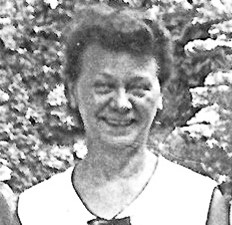 Mildred Prchal is recognized for her leadership in both artistic and rhythmic gymnastics. Her work for the latter includes her recognition as one of the founders of the sport in the US. She was the major initiator for the recognition and development of rhythmic gymnastics. As a member of the US Gymnastics Federation, she attended the World Rhythmic
Championships in Bulgaria and then recruited American Sokols to teach the new sport.
Norma Zabka, photo on previous page, was an outstanding artistic gymnast, who worked with Mildred Prchal in establishing rhythmic gymnastics in the US and served as an international judge for the new sport. She played a major leadership role in Sokol New York, both as president and in development of youth programs.
Ellen Garlicki Nyemcsik, a competitor in rhythmic (as well as artistic) gymnastics, is known for her roles as an organizer and judge of the sport (photo American Sokol Archives).
Ellen Nyemcsik
Sokol Little Ferry, NJ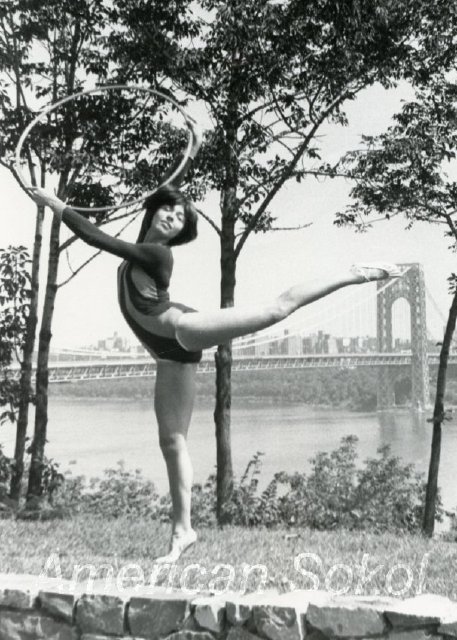 Some other American Sokols who promoted the sport of gymnastics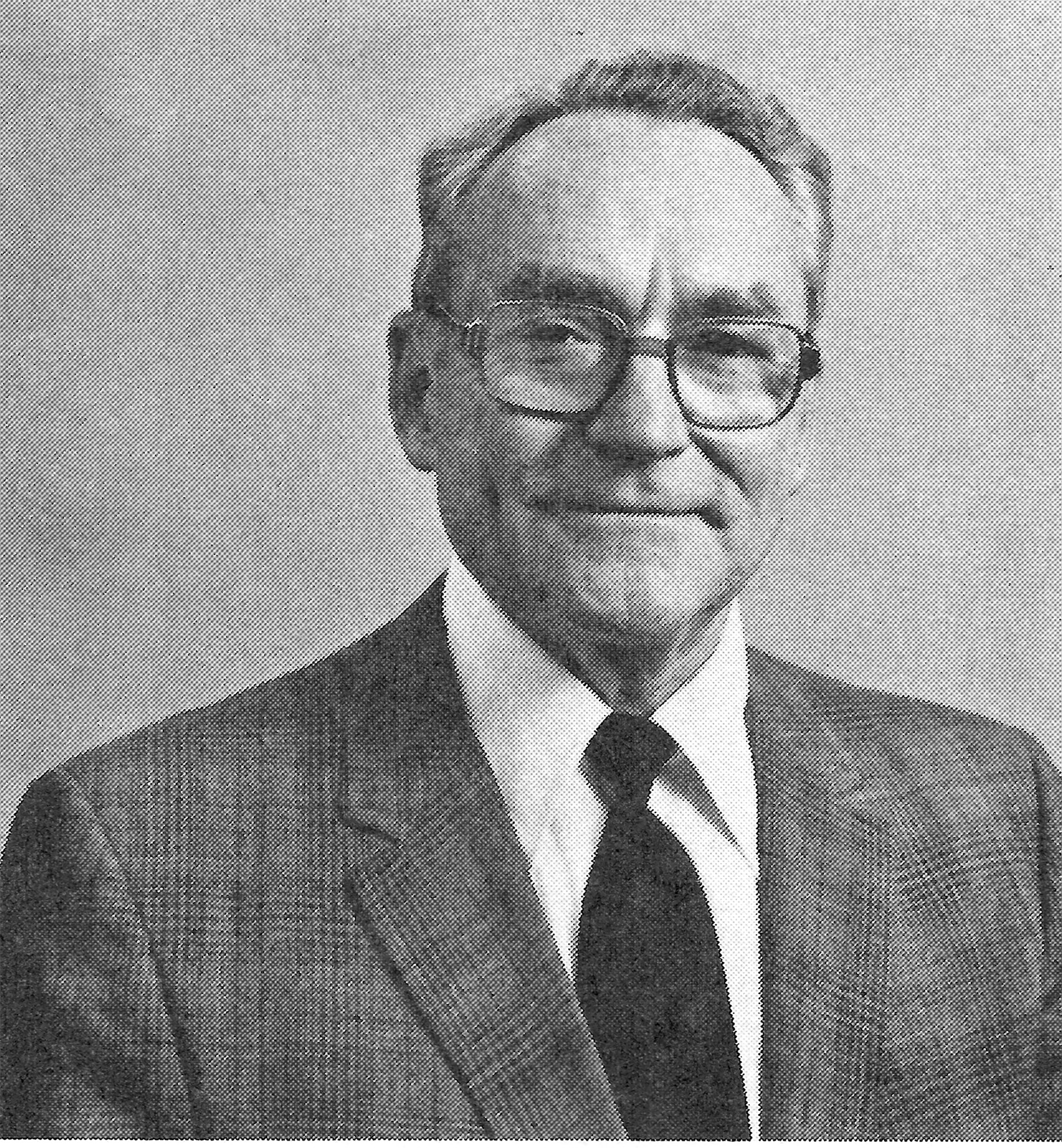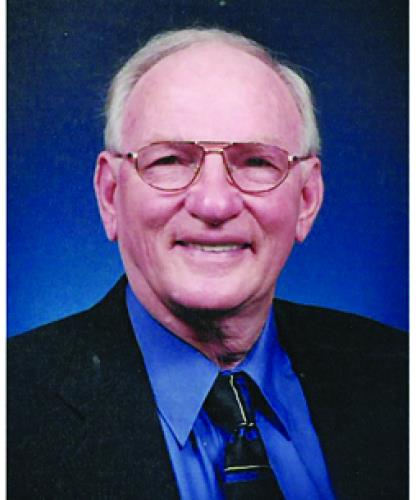 Stanley Barcal, top photo (1912-2003) of Sokol Chicago was an American Sokol national champion as a junior and senior, who promoted gymnastics throughout his life. He served as president of American Sokol for 31 years and worked to preserve the organizations history with a focus on its gymnastics and competitions. Barcal taught and coached gymnastics at several Sokol clubs. He created compulsory gymnastic routines and stressed that the core of Sokol is gymnastics.
Jerry Milan, a member of Sokol Fort Worth has contributed to the sport of gymnastics as a high school and sokol coach, a trainer of instructors, president of Sokol Fort Worth, gymnastics judge and director of championship meets. Milan directed a World Gymnastics Championship, and has served on the US Olympic Committee, and the Pan American Games Committee. He is the recipient of many service awards, including one from the United States Gymnastics Federation.
Emil Milan, bottom photo (1929-2016), Jerry's brother, was a Sokol Fort Worth member and instructor. He was a visionary who founded high school gymnastics in his state and is recognized as the "Father of Texas High School Gymnastics." His successful coaching career of both boys and girls earned him the award – National High School Coach of the year – four times. He also served on the US Women's Olympic Committee.